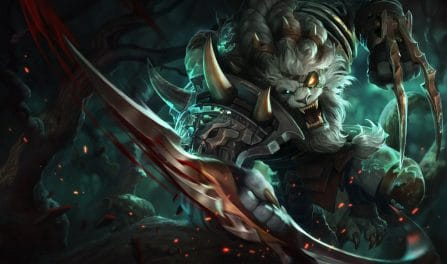 Los mejores campeones de LoL para sinergizar y contrarrestar a Rengar
76,524 Rengar Counters y emparejamientos analizados
Mejores counters de

Rengar
Peores counters de

Rengar
We determined the best and worst Rengar counters with stats taken from 76,524 ranked LoL games. We have determined those champions with the best and worse rates of victory versus him. Furthermore, we have found which champions can be good teammates to to get more wins.
As can be seen above, Urgot is the best to face off against Rengar with a 57.0% win fraction against him. Close behind, Nocturne and Trundle are the next greatest threats to Rengar. These two champs have win rates of 56.0% and 56.0%, respectively. You should not take him into a match where any of these champions has been picked.
On the other hand, if you're facing off against Gangplank, you can expect to do much better. Rengar counters them with a solid win rate of 53.0%. Likewise, you can anticipate doing very well against Zoe and Jayce. They have the next poorest win rates against Rengar.
If you are looking for good champion synergies for your own teammates to increase your winrate more, take a peek at at our champion synergies above. Regardless of his chosen position, he does best when paired with Ziggs. This pairing usually enhances his chances of winning by 1.0%. Corki and Rammus are also superb champions to fight alongside.
If you want to learn more about a specific Rengar counter, together with the preferred builds to use in that matchup, please click the related row in the tables above. If the particular Rengar counters you are looking for are not found below, you can view all possible counters at the link above.
In order to see Rengar pairings and counters from a particular division rank, you should use the dropdown menu above to filter the counters shown.
Cada semana revisamos millones de partidas de League of Legends sacadas directamente de los servidores de Riot. Analizamos los datos usando tanto estadísticas convencionales como algoritmos avanzados de aprendizaje automático para obtener los counters de Rengar más precisos.
Guía para contrarrestar a

Rengar
Debido a la emoción de la caza de Rengar, debes tener cuidado de proteger tus apoyos y no quedarte solo con poca vida.
Rengar contrarresta todos los carries blandos. Los tanques y los campeones de CC duro deben permanecer cerca de los carries para protegerlos.