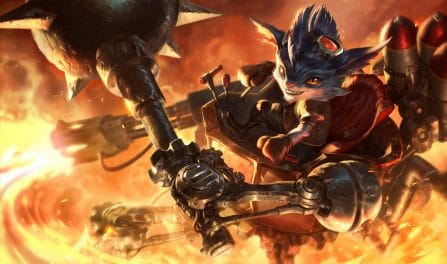 Los mejores campeones de LoL para sinergizar y contrarrestar a Rumble
28,873 Rumble Counters y emparejamientos analizados
We determined the best and worst Rumble counters using stats pulled from 28.873 ranked LoL matches. We have determined the champions with the best and worse rates of victory when facing him. Furthermore, we calculated which champs can be valuable teammates to to get more wins.
As can be seen above, Ekko is the strongest to challenge Rumble with a 57.4% win rate against him. Similarly, Maestro Yi and Warwick are the next biggest counters to Rumble. These two champs have win rates of 57.3% and 56.6%, respectively. You should avoid bringing him into a match where any of these champs has been selected.
Mejores counters de

Rumble
Peores counters de

Rumble
Conversely, if you're battling against Kha'Zix, you probably should anticipate doing much better. Rumble counters them with a solid win rate of 47.7%. Equally, you can expect to do very well when facing Graves and Lee Sin. These champs have the next lowest win rates when countering Rumble.
If you want the best champ synergies for your own allies to enhance your chances of winning even further, glance at our Rumble synergies.
Regardless of his chosen position, he does admirably when alongside Camille. This pairing typically boosts his chances of winning by a few percent. Zed and Vayne are also great champions to fight alongside.
To examine the details and best Rumble counter builds for a specific matchup, you can click the related row in one of the tables above. If you would like specific Rumble counters that are not displayed here, you may click the button near the top of the page to view details on all potential counters.
In order to review Rumble pairings and counters from one division rank, you may use the dropdown menu above to limit the counter stats provided.
Cada semana revisamos millones de partidas de League of Legends sacadas directamente de los servidores de Riot. Analizamos los datos usando tanto estadísticas convencionales como algoritmos avanzados de aprendizaje automático para obtener los counters de Rumble más precisos.
Guía para contrarrestar a

Rumble
Rumble se silencia cuando se sobrecalienta.
Escapa del ecualizador de Rumble cuando veas que caen los misiles porque inflige más daño cuanto más tiempo permanezcas en el AOE.
Rumble contrarresta a los campeones de baja movilidad en las peleas por equipos. Puede usar su Ult para controlar el campo de batalla e infligir toneladas de daño.