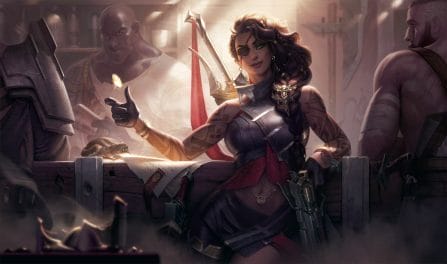 Las mejores runas, elementos y consejos para dominar a tu competencia
285,157 Samira Builds Analizadas
We calculated our Samira build guidance by examining 285.157 recently ranked League of Legends games with her selected. We only propose the top winrate Samira builds that were used by ranked gamers enough times for us to advise them. With so many games in our data, we are quite confident in our recommended builds.
Additionally, to view Samira builds dedicated to a particular skill level, choose a different tier from the dropdown menu found above. If you change the selection, the best Samira build given will capture that division's meta gameplay.
Los mejores items para

Samira
The best items to include in your champion's build are: Arcoescudo inmortal,Ángel de la guarda, and Filo infinito. Players who added these items in their kits had a significantly better winrate than those who went for other builds for Samira.
Moreover, like our rune setups, you can also find quality, focused, Samira item builds a little further down for the specific enemy team setup you are facing in your next match.
Samira

Items para derrotar a los Comps de equipos enfocados
Las mejores runas para

Samira

Conquistador

Triunfo

Leyenda: Linaje

Último esfuerzo

Sabor a sangre

Cazador voraz
If you are battling a varied enemy team arrangement, you should really consider grabbing Samira the Precisión, and Dominación runes. In recent games, she won the greatest percentage of her games when equipped with these runes.
Although, if you are battling a more single focused enemy team composition, such as an AD centric or a crowd control heavy team, you should instead scroll below to view the best Samira runes to win your particular round.
Samira

Runas para vencer a los equipos enemigos dedicados

Conquistador

Triunfo

Leyenda: Linaje

Golpe de gracia

Impacto repentino

Cazador voraz