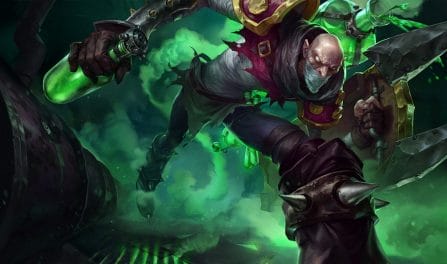 Las mejores runas, elementos y consejos para dominar a tu competencia
79,107 Singed Builds Analizadas
Our Singed builds result from our analysis of 79.107 recently ranked Singed games. Only the best winrate Singed builds that are also commonly used are advised by us. Because we have so many games in our data, we are quite confident that we can provide the highest quality builds for e to help ensure you win your next match!
Additionally, to view the best Singed build for a different skill rank, please pick a different one from the dropdown menu above. The recommended champion builds will update to reflect that skill level's meta.
Los mejores items para

Singed
The best items to incorporate into your champ's build include: Creagrietas,Cetro de cristal de Rylai, and Reloj de arena de Zhonya. Those who included these pieces in their kits had a higher winrate than those who went for other builds for Singed.
Furthermore, as with our rune advice, you can also get quality, dedicated, Singed item builds below for the particular enemy team comp you are fighting in your next game.
Singed

Items para derrotar a los Comps de equipos enfocados
Las mejores runas para

Singed

Conquistador

Triunfo

Leyenda: Tenacidad

Último esfuerzo

Cazador voraz

Sabor a sangre
If you are playing a mixed enemy team arrangement, you should really consider grabbing yourself the Precisión, and Dominación runes. In recent games, he won the greatest fraction of his matches when using these runes.
Although, if you are battling a singular enemy team composition, such as an AP heavy or a crowd control heavy team, you should instead look below to view the best Singed runes to defeat your particular set of opponents.
Singed

Runas para vencer a los equipos enemigos dedicados

Conquistador

Triunfo

Leyenda: Tenacidad

Último esfuerzo

Inquebrantable

Revestimiento de huesos
Guía para jugar con

Singed
Como Singed, utiliza Rastro de veneno delante de tus súbditos para acosar a tu enemigo y controlar el carril.
Lanza a tus enemigos hacia el alcance de la torreta, hacia tus aliados o simplemente hacia el AOE de Mega Adhesivo para enraizarlos.
Añadir algo de ralentización a tu rastro de veneno incorporando Cetro de cristal de Rylai a tu build de LoL Singed puede hacer que perseguirte sea realmente inútil.