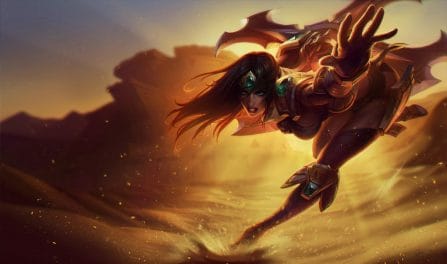 Los mejores campeones de LoL para sinergizar y contrarrestar a Sivir
173,190 Sivir Counters y emparejamientos analizados
To select the ideal and worst counters for Sivir, we reviewed the results of 173.190 recently finished, ranked League of Legends matches. We found which champs have the highest and lowest win rates versus her. Moreover, we extracted those few that are great allies and who could help prevent her from being countered. Having checked so many rounds provides us complete faith in our Sivir counter stats.
As shown above, Vayne is the strongest to face off against Sivir with a 50.8% victory percentage against her. Similarly, Ashe and Jhin are the next biggest counters to Sivir. These two champs have win rates of 50.5% and 50.3%, respectively. You should avoid bringing her into a round where any of these other champs has been selected.
Mejores counters de

Sivir
On the other hand, if you're battling against Lucian, you probably should anticipate doing much better. Sivir counters them with a great win percentage of 53.9%. Equally, you can expect to do very well when fighting Ezreal and Varus. They have the next worst winrates when countering Sivir.
If you are seeking the best champ synergies for your own teammates to enhance your chances of winning even further, take a look at our champ synergies.
Regardless of her chosen position, she does admirably when paired with Maestro Yi. This pairing usually boosts her chances of winning by a few percent. Amumu and Zyra are also superb champs to pair with.
If you want to find out more about a specific Sivir counter, as well as the best builds to employ in that pairing, please click the related row in the tables above. If the specific Sivir counters you are interested in aren't visible below, you may see all possible counters at the link above.
Additionally, if you need to find Sivir synergies and counters for a particular skill level, feel free to pick a different division from the dropdown located above.
Cada semana revisamos millones de partidas de League of Legends sacadas directamente de los servidores de Riot. Analizamos los datos usando tanto estadísticas convencionales como algoritmos avanzados de aprendizaje automático para obtener los counters de Sivir más precisos.
Guía para contrarrestar a

Sivir
Construir armadura es una buena idea para bloquear la mayor parte del daño físico de Sivir.
Sivir contrarresta a otros ADC que empujan, como Varus o Caitlyn. Su mayor producción de daño y su capacidad para acercarse rápidamente cuando las probabilidades se vuelven a su favor significa que puede controlar el flujo de la batalla y hacer lo que quiere.
Además, Sivir contrarresta todos los soportes de gancho, como Blitz, Thresh y Nautilus. Estos campeones dependen demasiado de una sola habilidad de CC dura dirigida con un tiempo de reutilización prolongado. Puede usar su escudo de hechizos para bloquearlo e inutilizarlo.
La activación de Sivir en la caza es un buen indicio de que se acerca un gank. Estate atento y busca refugio si la utiliza.