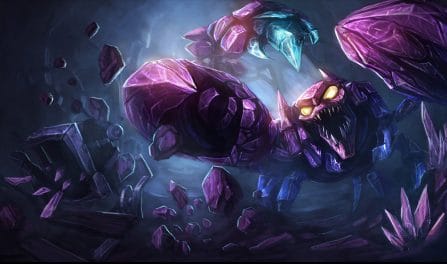 Los mejores campeones de LoL para sinergizar y contrarrestar a Skarner
28,091 Skarner Counters y emparejamientos analizados
We computed our best and worst Skarner counters using data taken from 28.091 ranked League matches. We have determined the champions with the best and worse rates of victory against him. Additionally, we found which champions can serve as valuable teammates to help you win more League games.
As can be seen above, Amumu is the strongest to beat Skarner with a 53.7% win fraction against him. In a close second and third place, Shaco and Nocturne are the next biggest counters to Skarner. These two have win rates of 52.0% and 51.5%, respectively. You should avoid bringing him into a match where one of these other champions has already been picked.
Mejores counters de

Skarner
Peores counters de

Skarner
On the other hand, if you're playing against Viego, you can anticipate doing much better. Skarner counters them with a great win rate of 53.7%. Equally, you can expect to do very well when fighting Lee Sin and Diana. They have the next lowest winrates versus Skarner.
If you want the best champion pairings for your own allies to advance your win rate even further, look at the champion synergies.
Regardless of his chosen position, he does very well when paired with Brand. This combination typically increases his average win rate by a few percent. Xerath and Zyra are also awesome champions to pair with.
If you would like to learn more about a specific Skarner counter, along with the best builds to employ in that situation, please click the related row in the tables above. If the specific Skarner counters you are trying to find aren't found below, you may get all possible counters at the link above.
To filter the Skarner counters to one ranked division only, choose your chosen skill level from the dropdown above. The given champ counters and synergies will be revised.
Cada semana revisamos millones de partidas de League of Legends sacadas directamente de los servidores de Riot. Analizamos los datos usando tanto estadísticas convencionales como algoritmos avanzados de aprendizaje automático para obtener los counters de Skarner más precisos.
Guía para contrarrestar a

Skarner
Tu equipo debe coordinar los aturdimientos y las inhabilitaciones cuando Skarner intente ir a por tu carry.
Un Skarner móvil y tanque contrarresta cualquier carry. Si tu equipo está construido en torno a un carry de escala, puede que te resulte difícil competir. A menos que tengas suficiente CC o movilidad, arrancará fácilmente tu carry y lo llevará a sus compañeros para que lo ejecuten. La lentitud es eficaz para evitar que Skarner alcance a su carry o que lo arrastre hasta su equipo.