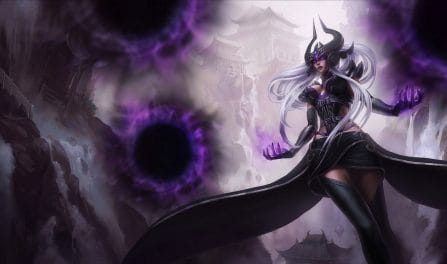 Las mejores runas, elementos y consejos para dominar a tu competencia
49,068 Syndra Builds Analizadas
Los mejores items para

Syndra
The most important items to incorporate into your Syndra build include: Luden's Tempest, Seraph's Embrace, Rabadon's Deathcap, and Cosmic Drive. Additionally, as with our rune suggestions, you can also find great, focused, Syndra item builds further down for the particular enemy team comp you are facing in your current match. Players who included these items in their setups had a greater winrate than players who tried for other builds for Syndra.
Syndra

Items para derrotar a los Comps de equipos enfocados
Las mejores runas para

Syndra

Electrocutar

Golpe bajo

Poro fantasmal

Cazador incesante

Banda de maná

Trascendencia
If you are facing a well-mixed enemy team composition, you should strongly consider getting her the Electrocute, Cheap Shot, Ghost Poro, Relentless Hunter, Manaflow Band, and Transcendence runes. In recent matches, she won the largest fraction of her matches when built with these runes. Yet, if you are facing a more single focused enemy team comp, such as an AD focused or a CC centric team, you should instead look further down to find the best Syndra runes to defeat your particular combination of foes.
Syndra

Runas para vencer a los equipos enemigos dedicados

Electrocutar

Golpe bajo

Colección de globos oculares

Cazador voraz

Claridad mental

Golpe de gracia
Guía para jugar con

Syndra
Dado que las habilidades de Syndra son AOE, es difícil acosar al enemigo en el carril sin empujar la ola de súbditos hacia la torreta enemiga. Esto no es aconsejable ya que el equilibrio de los súbditos no estará a tu favor.
Maximiza el daño de Poder desatado usándolo cuando haya muchas esferas en el mapa. Tiene un enfriamiento bajo, así que siéntete libre de usarlo generosamente.
We came up with our Syndra build suggestions by examining 49,068 recently ranked League matches with her selected. We only propose the highest winrate Syndra builds that have been built by ranked players enough times for us to propose them. With so many matches in our dataset, we are quite confident in our provided builds.
Additionally, to see Syndra builds specific to a unique division, choose a different rank from the dropdown menu located above. In that case, the ideal Syndra build given will be based on that division's meta.