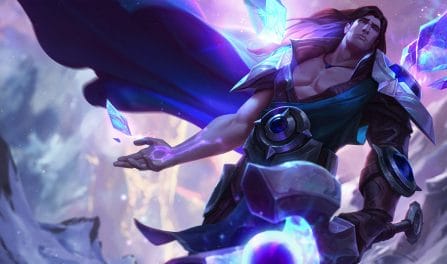 Las mejores runas, elementos y consejos para dominar a tu competencia
46,271 Taric Builds Analizadas
Our Taric builds result from our evaluation of 46.271 recently ranked Taric rounds. Only the best win rate Taric builds that are also commonly used are recommended by us. Since we have so many matches in our dataset, we are sure that we can produce the best quality builds for a to help ensure you win your next round!
Additionally, Taric builds dedicated to a particular skill tier can be seen by choosing another rank from the dropdown menu located above. The recommended Taric build shown will be focused on that division's meta.
Los mejores items para

Taric
The most important items to include in your champion's build are: Medallón de los Solari de Hierro,Convergencia de Zeke, and Promesa de caballero. Players who included these items in their setups had a better win rate than players who went for other Taric builds.
Yet, similar to our rune suggestions, you can also find quality, focused, Taric item builds a little further down for the specific enemy team composition you are battling in your ongoing match.
Taric

Items para derrotar a los Comps de equipos enfocados
Las mejores runas para

Taric

Protector

Golpe de escudo

Condicionamiento

Revitalizar

Claridad mental

Leyenda: Tenacidad
If you are fighting a varied enemy team comp, you should strongly consider getting him the Valor, and Precisión runes. In recent matches, he won the largest number of his games when using these runes.
However, if you are playing a more focused enemy team composition, such as an AP focused or a tank centric team, you should instead scroll below to find the best Taric runes to win your particular round.
Taric

Runas para vencer a los equipos enemigos dedicados

Protector

Demoler

Revestimiento de huesos

Revitalizar

Claridad mental

Leyenda: Tenacidad
Guía para jugar con

Taric
Taric es un apoyo increíblemente fuerte que puede cambiar las peleas de equipo haciendo invulnerables a todos los compañeros cercanos con Resplandor Cósmico.
Aplicar Baluarte en uno de tus campeones de combate ayudará a aumentar el alcance de tu aturdimiento.
Lanza Baluarte a uno de tus carries para hacerlos más resistentes