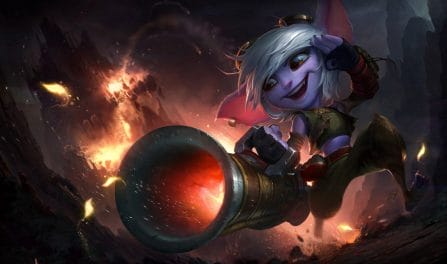 Las mejores runas, elementos y consejos para dominar a tu competencia
423,931 Tristana Builds Analizadas
Our Tristana builds result from our evaluation of 423.931 recently ranked Tristana matches. Only the top win rate Tristana builds that are also commonly used are advised by us. Since we have so many rounds in our data, we are quite sure that we can show you high quality builds for a to help ensure you win your next match!
Additionally, to view the top Tristana build from a different skill level, you can select a different skill tier from the dropdown menu above. The proposed champ builds will change to capture that skill level's meta.
Los mejores items para

Tristana
The most critical items to incorporate into your champ's build include: Verdugo de krakens,Ángel de la guarda, and Filo infinito. Those who added these pieces in their builds had a higher win rate than players who utilized other item builds for Tristana.
Furthermore, like our rune advice, you can also find quality, dedicated, Tristana item builds below for the specific enemy team composition you are fighting in your current game.
Tristana

Items para derrotar a los Comps de equipos enfocados
Las mejores runas para

Tristana

Lluvia de cuchillas

Sabor a sangre

Colección de globos oculares

Cazador voraz

Leyenda: Linaje

Triunfo
If you are facing a well-mixed enemy team composition, you should really consider grabbing her the Dominación, and Precisión runes. In recent matches, she won the largest number of her matches when built with these runes.
However, if you are fighting a different enemy team composition, such as an AD heavy or a CC focused team, you should instead browse a little down to find the best Tristana runes to win your particular round.
Tristana

Runas para vencer a los equipos enemigos dedicados

Lluvia de cuchillas

Sabor a sangre

Colección de globos oculares

Cazador voraz

Leyenda: Linaje

Triunfo
Guía para jugar con

Tristana
Concéntrate en el último golpe con Tristana para que puedas conseguir tus objetos rápidamente. Carga explosiva hace que esto sea una prioridad aún más importante.
Antes de una pelea en equipo, activa Fuego rápido para aumentar tu velocidad de ataque y tu producción de daño.