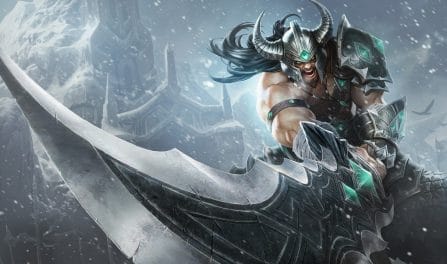 Las mejores runas, elementos y consejos para dominar a tu competencia
191,414 Tryndamere Builds Analizadas
Our Tryndamere builds result from our examination of 191.414 recently ranked Tryndamere rounds. Only the best win rate Tryndamere builds that are also in common use are recommended by us. Since we have so many games in our dataset, we are sure that we can generate the best quality builds for r to help ensure you win your next match!
Additionally, to get Tryndamere builds specific to a particular skill level, select a different rank from the dropdown menu located above. If you change the selection, the proposed Tryndamere build given will capture that tier's meta game.
Los mejores items para

Tryndamere
The most critical items to include in your champ's build include: Verdugo de krakens,Ángel de la guarda, and Hoja del rey arruinado. Players who included these items in their gear had a significantly better win rate than those who went for other Tryndamere builds.
Additionally, similar to our rune builds, you can also find great, focused, Tryndamere item builds farther down for the specific enemy team setup you are fighting in your next game.
Tryndamere

Items para derrotar a los Comps de equipos enfocados
Las mejores runas para

Tryndamere

Compás letal

Triunfo

Leyenda: Presteza

Último esfuerzo

Revitalizar

Fuerzas renovadas
If you are facing a well-mixed enemy team composition, you should really consider grabbing Tryndamere the Precisión, and Valor runes. In recent matches, he won the greatest number of his rounds when equipped with these runes.
Although, if you are playing a more focused enemy team composition, such as an AD centric or a tank centric team, you should instead scroll a little below to use the best Tryndamere runes to win your particular match.
Tryndamere

Runas para vencer a los equipos enemigos dedicados

Compás letal

Triunfo

Leyenda: Presteza

Último esfuerzo

Inquebrantable

Fuerzas renovadas
Guía para jugar con

Tryndamere
Intenta perfeccionar la sincronización de Furia imperecedera para que puedas obligar a los enemigos a sobrepasarse mientras intentan matarte. Luego actívalo para cambiar el rumbo de la lucha.
La fuerza de Tryndamere proviene de ser capaz de realizar golpes críticos.