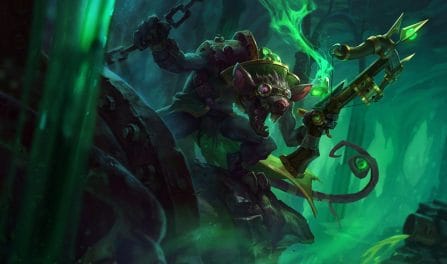 Las mejores runas, elementos y consejos para dominar a tu competencia
102,131 Twitch Builds Analizadas
Los mejores items para

Twitch
The most essential items to use in your Twitch build are: Typhoon, Infinity Edge, Lord Dominik's Regards, and Runaan's Hurricane. Furthermore, like our rune advice, you can also get great, dedicated, Twitch item builds further down for the particular enemy team composition you are playing in your ongoing game. Players who included these pieces in their kits had a greater win rate than players who worked towards other builds for Twitch.
Twitch

Items para derrotar a los Comps de equipos enfocados
Las mejores runas para

Twitch

Ataque intensificado

Triunfo

Leyenda: Linaje

Golpe de gracia

Sabor a sangre

Cazador definitivo
If you are fighting a well-mixed enemy team composition, you should really consider grabbing yourself the Press the Attack, Triumph, Legend: Bloodline, Coup de Grace, Taste of Blood, and Ultimate Hunter runes. In recent games, he won the greatest fraction of his matches when equiped with these runes. Yet, if you are battling a more homogenous enemy team comp, such as an AP centric or a tank centric team, you should instead look below to use the best Twitch runes to defeat your particular combination of foes.
Twitch

Runas para vencer a los equipos enemigos dedicados

Ataque intensificado

Claridad mental

Leyenda: Presteza

Golpe de gracia

Impacto repentino

Cazador voraz
Guía para jugar con

Twitch
Twitch tiene una de las velocidades de ataque más altas del juego. La compra de objetos con efecto de golpe para acumularlos con Veneno Mortal proporciona una gran ventaja.
El barril de veneno puede utilizarse para ralentizar a un campeón enemigo lo suficiente como para cerrar la brecha e iniciar tus combos.
Twitch es un híper carry. Si consigue alimentarse, es probable que acarree el juego.
En LoL Twitch se puede jugar en un montón de posiciones diferentes. Aunque se juega principalmente en las posiciones de Abajo y Jungla, su alcance le permite acorralar a muchos campeones cuerpo a cuerpo en otros carriles.
We established our Twitch build suggestions by examining 102,131 recently ranked League of Legends games with him in them. We only propose the best winrate Twitch builds that were used by ranked gamers enough times for us to propose them. With so many rounds in our data, we are confident in our recommended builds.
Additionally, to see the top Twitch build designed for a different skill division, please choose a different one from the dropdown menu above. The proposed Twitch builds will change to capture that skill level's meta.