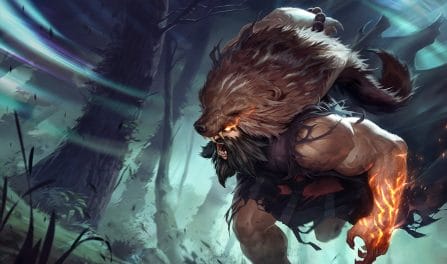 Los mejores campeones de LoL para sinergizar y contrarrestar a Udyr
36,539 Udyr Counters y emparejamientos analizados
To select the greatest and worst counters for Udyr, we examined the outcomes of 36,539 recently completed, ranked League of Legends games. We determined which champions have the best and worst win rates versus him. Additionally, we found those rare champions that are great companions and who could help prevent your champ from being beaten. Having checked so many matches provides us complete confidence in our conclusions.
As shown above, Skarner is the best to beat Udyr with a 57.0% win fraction against him. In a close second and third place, Brand and Amumu are the next scariest threats to Udyr. These two champs have win rates of 56.0% and 56.0%, respectively. You should not take him into a match where one of these other champions has been chosen.
Conversely, if you're playing against Akshan, you should anticipate doing much better. Udyr counters them with a much better win percentage of 53.0%. Similarly, you can expect to do very well against Syndra and Qiyana. They have the next poorest winrates against Udyr.
If you want the best champ pairings for your own teammates to help boost your win percentage even further, glance at the champ synergies above. Regardless of his lane, he does best when alonside Brand. This pairing usually increases his chances of winning by 2.0%. Yorick and Illaoi are also awesome champs to team up with.
To review the details and best Udyr counter builds about a particular matchup, you should click the corresponding row in one of the tables above. If you are interested in any Udyr counters that are not shown here, you can click the "All Matchups" button to browse them.
Additionally, if you need to find Udyr synergies and counters for a particular division, feel free to select a specific division from the dropdown above.
Cada semana revisamos millones de partidas de League of Legends sacadas directamente de los servidores de Riot. Analizamos los datos usando tanto estadísticas convencionales como algoritmos avanzados de aprendizaje automático para obtener los counters de Udyr más precisos.
Guía para contrarrestar a

Udyr
Udyr necesita estar dentro del rango de combate cuerpo a cuerpo para repartir su daño. Mantén tu distancia y hazlo lo mejor que puedas con tu alcance.
Udyr contraataca y mata carries que se salen de posición. No te pongas demasiado ansioso.