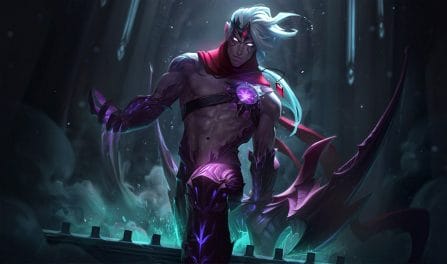 Las mejores runas, elementos y consejos para dominar a tu competencia
88,054 Varus Builds Analizadas
Los mejores items para

Varus
The best items to incorporate into your Varus build are: Immortal Shieldbow, Guardian Angel, Guinsoo's Rageblade, and Blade of The Ruined King. Yet, similar to our rune advice, you can also find quality, focused, Varus item builds further down for the specific enemy team comp you are playing in your current match. Players who added these items in their setups had a much higher win rate than players who utilized other Varus builds.
Varus

Items para derrotar a los Comps de equipos enfocados
Las mejores runas para

Varus

Lluvia de cuchillas

Golpe bajo

Colección de globos oculares

Cazador voraz

Triunfo

Derribado
If you are fighting a well-mixed enemy team comp, you should strongly consider getting him the Hail of Blades, Cheap Shot, Eyeball Collection, Ravenous Hunter, Triumph, and Cut Down runes. In recent games, he won the greatest percentage of his games when using these runes. However, if you are fighting a more single focused enemy team comp, such as an AD heavy or a crowd control centric team, you should instead look further down to use the best Varus runes to defeat your particular combination of foes.
Varus

Runas para vencer a los equipos enemigos dedicados

Ataque intensificado

Claridad mental

Leyenda: Presteza

Golpe de gracia

Sabor a sangre

Cazador voraz
Guía para jugar con

Varus
La flecha perforadora se puede usar para golpear por última vez a los súbditos y acosar a los campeones enemigos, manténgala presionada por más tiempo para obtener más alcance y poder.
Venganza viviente significa que atacas más rápido después de matar algo.
Practica la flecha perforadora hasta que seas un profesional. Cargarla fuera de la visión del enemigo (como al volver al carril o desde la maleza) puede ayudarte a conseguir un golpe.
We set our Varus build suggestions by examining 88,054 recently ranked LoL games with him selected. We only advise the highest winrate Varus builds that have been built by ranked League players enough times for us to suggest them. With so many games in our data, we are very confident in our provided builds.
Additionally, to see Varus builds tailored to a unique division, pick a different division from the dropdown menu located above. If you select a different division, the proposed Varus build given will reflect that division's meta game.