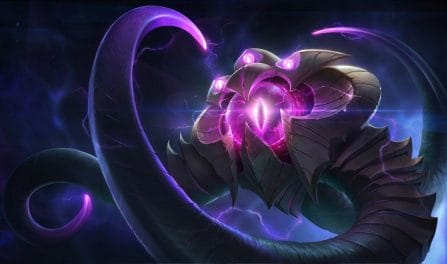 Las mejores runas, elementos y consejos para dominar a tu competencia
62,609 Vel'Koz Builds Analizadas
Los mejores items para

Vel'Koz
The most important items to include in your Vel'Koz build are: Liandry's Anguish, Rabadon's Deathcap, Banshee's Veil, and Morellonomicon. Additionally, similar to our rune advice, you can also get great, focused, Vel'Koz item builds below for the specific enemy team comp you are facing in your current match. Players who included these items in their kits had a much higher winrate than those who used other builds for Vel'Koz.
Vel'Koz

Items para derrotar a los Comps de equipos enfocados
Las mejores runas para

Vel'Koz

Cosecha oscura

Sabor a sangre

Colección de globos oculares

Cazador incesante

Banda de maná

Trascendencia
If you are trying to beat a well-mixed enemy team comp, you should really consider grabbing yourself the Dark Harvest, Taste of Blood, Eyeball Collection, Relentless Hunter, Manaflow Band, and Transcendence runes. In recent games, he won the greatest fraction of his games when using these runes. Yet, if you are facing a more single focused enemy team composition, such as an AD heavy or a tank heavy team, you should instead look a little below to find the best Vel'Koz runes to defeat your particular enemy team.
Vel'Koz

Runas para vencer a los equipos enemigos dedicados

Cometa arcano

Banda de maná

Trascendencia

Se avecina tormenta

Momento oportuno

Entrega de galletas
Guía para jugar con

Vel'Koz
Durante la fase de carril, utiliza la Grieta del Vacío para cultivar súbditos y acosar a tu enemigo al mismo tiempo.
Practica las habilidades de Vel'Koz constantemente, ya que el tiempo y las posiciones son difíciles de dominar.
We calculated our Vel'Koz build suggestions by analyzing 62,609 recently ranked League matches with him in them. We only advise the highest winrate Vel'Koz builds that have been used by ranked players enough times for us to advise them. With so many rounds in our dataset, we are very confident in our recommended builds.
Additionally, to view the best Vel'Koz build designed for a different skill level, please pick a different one from the dropdown menu above. The proposed Vel'Koz builds will change to reflect that skill level's meta.