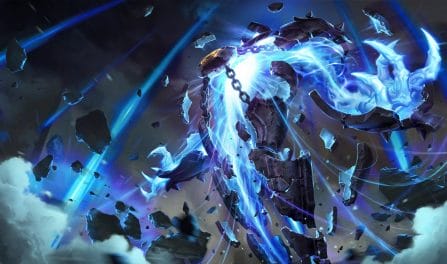 Las mejores runas, elementos y consejos para dominar a tu competencia
158,753 Xerath Builds Analizadas
We set our Xerath build recommendations by examining 158.753 recently ranked League games with him selected. We only advise the highest winrate Xerath builds that were built by ranked gamers enough times for us to reccomend them. With so many games in our data, we are quite confident in our recommended builds.
Additionally, Xerath builds specific to a particular skill rank can be displayed by selecting a different rank from the dropdown menu found above. The best Xerath build shown will be focused on that tier's meta.
Los mejores items para

Xerath
The best items to use in your champ's build are: Tempestad de Luden,Sombrero mortal de Rabadon, and Fragmento de Hielo Puro. Those who included these pieces in their gear had a greater winrate than those who utilized other item builds for Xerath.
Furthermore, like our rune setups, you can also find quality, dedicated, Xerath item builds below for the specific enemy team comp you are playing in your next game.
Xerath

Items para derrotar a los Comps de equipos enfocados
Las mejores runas para

Xerath

Cometa arcano

Banda de maná

Concentración absoluta

Piroláser

Claridad mental

Golpe de gracia
If you are playing a varied enemy team comp, you should strongly consider getting him the Brujería, and Precisión runes. In recent matches, he won the greatest number of his matches when built with these runes.
Although, if you are fighting a more single focused enemy team comp, such as an AP heavy or a CC heavy team, you should instead scroll below to see the best Xerath runes to win your particular game.
Xerath

Runas para vencer a los equipos enemigos dedicados

Cosecha oscura

Golpe bajo

Colección de globos oculares

Cazador definitivo

Banda de maná

Piroláser
Guía para jugar con

Xerath
El Pulso Arcano es más fácil de aterrizar cuando tu enemigo se mueve en línea recta hacia ti o se aleja de ti.
Utiliza Ojo de Destrucción para facilitar el uso del Pulso Arcano.
Aprovecha el alto rango de Xerath para mantenerte alejado de los enemigos durante la fase de carriles.