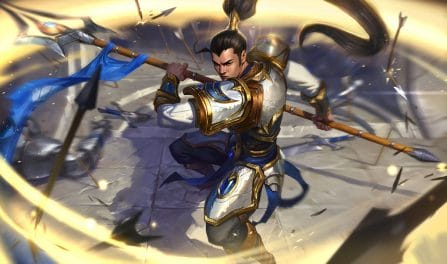 Las mejores runas, elementos y consejos para dominar a tu competencia
300,964 Xin Zhao Builds Analizadas
Our Xin Zhao builds come out of our analysis of 300.964 recently ranked Xin Zhao games. Only the top winrate Xin Zhao builds that are also commonly used are recommended by us. Since we have so many matches in our data, we are sure that we can generate top quality builds for Z to help you win your next round!
Additionally, to view the best Xin Zhao build for a different skill rank, please pick a different skill tier from the dropdown above. The recommended champ builds will update to characterize that skill level's meta.
Los mejores items para

Xin Zhao
The most essential items to use in your champ's build are: Chupasangre,Calibrador de Sterak, and Hoja del rey arruinado. Those who included these pieces in their kits had a greater winrate than those who worked towards other item builds for Xin Zhao.
Moreover, like our rune recommendations, you can also get great, dedicated, Xin Zhao item builds below for the specific enemy team composition you are fighting in your next match.
Xin Zhao

Items para derrotar a los Comps de equipos enfocados
Las mejores runas para

Xin Zhao

Conquistador

Triunfo

Leyenda: Tenacidad

Último esfuerzo

Perspicacia cósmica

Calzado mágico
If you are playing a well-mixed enemy team comp, you should strongly consider getting Xin Zhao the Precisión, and Inspiración runes. In recent games, he won the largest number of his matches when using these runes.
However, if you are fighting a more homogenous enemy team composition, such as an AP focused or a CC heavy team, you should instead look a little down to view the best Xin Zhao runes to defeat your particular enemy team.
Xin Zhao

Runas para vencer a los equipos enemigos dedicados

Lluvia de cuchillas

Impacto repentino

Colección de globos oculares

Cazador incesante

Leyenda: Presteza

Golpe de gracia
Guía para jugar con

Xin Zhao
Cada tercer golpe de Determinación cura a Xin Zhao, así que úsalo para mantener la presencia en el carril.
Utiliza Golpe de tres garras en último lugar para derribar a tu oponente y reducir tus otros enfriamientos.