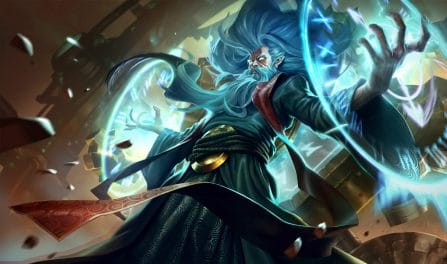 Los mejores campeones de LoL para sinergizar y contrarrestar a Zilean
55,267 Zilean Counters y emparejamientos analizados
Mejores counters de

Zilean
Peores counters de

Zilean
To select the most and least favorable counters for Zilean, we studied the scores of 55,267 recently played, ranked LoL games. We found which champs have the best and worst win rates against him. Additionally, we calculated those rare champions that are great allies and who could help prevent your champ from being countered. Having reviewed so many games leaves us with lots of confidence in our Zilean counter stats.
As shown above, Zyra is the strongest to beat Zilean with a 51.0% win percentage against him. In a close second and third place, Trundle and Brand are the next biggest threats to Zilean. These two have win rates of 51.0% and 51.0%, respectively. You should avoid bringing him into a round where any of these other champs has been chosen.
Conversely, if you are playing against Akshan, you should expect to do much better. Zilean counters them with a very respectable win percentage of 58.0%. Similarly, you should anticipate doing very well when battling Gwen and Darius. They have the next worst win rates versus Zilean.
If you want great champion pairings for your own teammates to advance your victory rate more, glance at our Zilean synergies above. Regardless of his lane, he does best when on the same team as Vi. This combination usually improves his chances of winning by 6.0%. Master Yi and Swain are also great champions to pair with.
If you are looking to learn more about a specific Zilean counter, together with the most desirable builds to adopt in that pairing, please click the related row in the tables above. If the particular Zilean counters you are looking for aren't shown below, you may get all possible counters at the above link.
Additionally, if you are looking to review Zilean synergies and counters for a particular division, please feel free to pick a specific division from the dropdown menu above.
Cada semana revisamos millones de partidas de League of Legends sacadas directamente de los servidores de Riot. Analizamos los datos usando tanto estadísticas convencionales como algoritmos avanzados de aprendizaje automático para obtener los counters de Zilean más precisos.
Guía para contrarrestar a

Zilean
Obliga a Zilean a lanzar Cronoviaje fuera de las grandes peleas de equipo para que su utilidad disminuya.
Zilean contrarresta a la mayoría de los campeones explosivos. Su definitiva permite a su aliado revivir mientras su enemigo se queda esperando a que sus enfriamientos se refresquen.
Mantente fuera del alcance de la bomba de tiempo o esquiva la segunda.