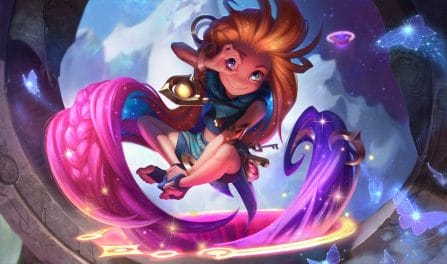 Estadísticas de campeones de LoL y desglose de Meta
33,480 Partidos analizados de Zoe
These champ stats were computed using 33,480 recently played, ranked Zoe matches. MOBA Champion downloads ranked match summaries directly from Riot's servers. Having a large number of League rounds to evaluate gives us great confidence in our capability to give you precise Zoe stats. Across all games, Zoe didn't do very well, with a below average win rate of 46.1%.
Zoe has been picked very little in recent ranked League rounds. In the current meta, her popularity is 1.1%. Hardly anyone sees her as a danger. She has only been banned in approximately 0.5% of LoL matches.
She is a powerful damage dealer on the Rift with 6 kills on average per game. That is the 22nd highest kill rate among all mids. (There are 34 total champions that are usually played in in the mid position.) Moreover, she has a somewhat typical death rate with an average of 6 deaths per LoL match (26th out of all mids). Additionally, Zoe has an average KDA ratio (2.3) with 7 assists (14th among all mid type champs).
Tasa de victorias a lo largo del tiempo de

Zoe
Our calculated overall Zoe win rate is the 33rd best amongst mids. She is most powerful in the late phase of the game with a 46.7% win rate in that stage. In contrast, she has a 45.9% win rate in the early phase and a 46.1% winrate overall. There is only a small difference between these Zoe win rates (0.8%). This negligible difference makes it clear that her relative power is flat throughout an entire match.
Estadísticas de posición de

Zoe
You will find her most often played in the mid position. The highest win rate position for Zoe is mid (45.9%). At this time, Zoe's meta game is centered around dealing damage. In particular, her build should primarily be focused on magical damage. Furthermore, she is an ok tank champion. Dealing physical damage is the least important part of Zoe's kit.
If you are not comfortable with Zoe's abilities and gameplay, you may find it difficult trying her out for the first time. Many competitors believe her to not be a tough champion to get good at. Zoe mostly causes magical damage (78% of her total damage). She doesn't deal a large amount of physical damage and should not be considered a hybrid damage dealer.
Zoe deals a decent amount of damage during a typical match (18,971 damage). You could focus on developing her as a damage dealing champion to smash your opponents.
Resistencia mágica
30 - 38.5
Velocidad de Movimiento
340
As the embodiment of mischief, imagination, and change, Zoe acts as the cosmic messenger of Targon, heralding major events that reshape worlds. Her mere presence warps the arcane mathematics governing realities, sometimes causing cataclysms without...
Revisamos millones de partidas de League of Legends extraídas directamente de los servidores de Riot cada semana y analizamos los datos mediante algoritmos avanzados para ofrecerte las estadísticas más precisas de Zoe en línea. Analizamos los datos por niveles, para que puedas encontrar el porcentaje de victorias más relevante y otras estadísticas.