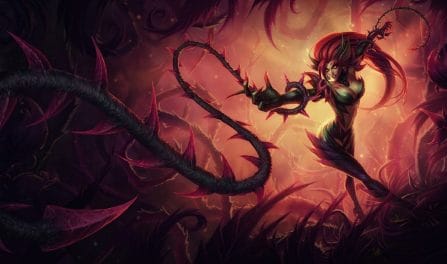 Los mejores campeones de LoL para sinergizar y contrarrestar a Zyra
221,410 Zyra Counters y emparejamientos analizados
We determined our best and worst Zyra counters with information extract from 221.410 ranked LoL rounds. We have figured out the champs with the best and worse rates of victory against her. Additionally, we have found which champions can serve as valuable teammates to to get more wins.
As you can see above, Xerath is the strongest to face off against Zyra with a 50.2% win fraction against her. In a close second and third place, Blitzcrank and Swain are the next largest counters to Zyra. These two champs have win rates of 49.8% and 49.5%, respectively. You should not bring her into a match where one of these other champions has been selected.
On the other hand, if you are battling Senna, you should expect to do much better. Zyra counters them with a great win percentage of 55.7%. Similarly, you can anticipate doing very well against Thresh and Karma. They have the next lowest winrates against Zyra.
If you want great champ synergies for your own allies to advance your win percentage, take a look at the champ synergies.
Regardless of her chosen position, she does admirably when on the same team as Maestro Yi. This combination usually boosts her chances of winning by a few percent. Nasus and Yasuo are also awesome champs to pair with.
If you want to learn more about a specific Zyra counter, including the best builds to employ in that matchup, please click the corresponding row in the tables above. If the specific Zyra counters you are interested in aren't avaialable below, you may get all possible counters at the link above.
Additionally, if you want to review Zyra synergies and counters for a specific rank tier, feel free to choose a specific division from the dropdown menu above.
Cada semana revisamos millones de partidas de League of Legends sacadas directamente de los servidores de Riot. Analizamos los datos usando tanto estadísticas convencionales como algoritmos avanzados de aprendizaje automático para obtener los counters de Zyra más precisos.
Guía para contrarrestar a

Zyra
Presiona a Zyra con campeones que pueden recibir mucho daño. Zyra puede empujar desde muy lejos.
Gankeala a menudo si está sola porque es bastante escuálida y no tiene un escape fiable.
Como soporte, Zyra contrarresta las duplas de abajo con poco sustento. Tiene un gran empuje y puede seguir haciendo daño con sus plantas mientras se retira.