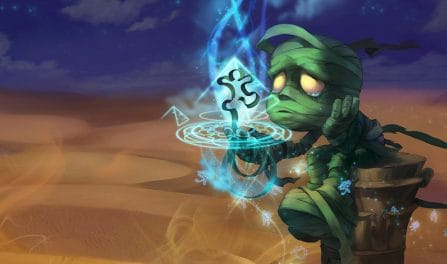 Les meilleures runes, objets et conseils pour dominer votre compétition
202,251 Amumu Builds Analyzed
We set our Amumu build recommendations by analyzing 202 251 recently ranked League of Legends games with him selected. We only advise the highest winrate Amumu builds that have been used by ranked players enough times for us to propose them. With so many rounds in our dataset, we are very confident in our suggested builds.
Additionally, Amumu builds dedicated to a particular skill rank can be displayed by choosing another division from the dropdown menu located above. The best Amumu build shown will be specific to that division's meta.
Meilleurs objets pour le Build de

Amumu
The best items to include in your champion's build are: Égide solaire,Lithoplastron de gargouille, and Étreinte démoniaque. Those who added these items in their builds had a greater winrate than those who used other item builds for Amumu.
Furthermore, similar to our rune setups, you can also get great, focused, Amumu item builds just below for the particular enemy team composition you are facing in your next game.
Amumu

Items to Defeat Focused Team Comps
Best

Amumu

Runes for Your Next Build

Conquérant

Triomphe

Légende : ténacité

Baroud d'honneur

Conditionnement

Inébranlable
If you are playing a varied enemy team comp, you should strongly consider getting yourself the Précision, and Volonté runes. In recent games, he won the largest number of his games when using these runes.
Yet, if you are trying to beat a singular enemy team comp, such as an AP focused or a crowd control heavy team, you should instead look a little down to get the best Amumu runes to defeat your particular set of opponents.
Amumu

Runes to Beat Dedicated Enemy Teams

Conquérant

Triomphe

Légende : ténacité

Baroud d'honneur

Conditionnement

Inébranlable
Qu'est-ce qui fait d'Amumu un champion de jungle très polyvalent ?
Amumu est l'un des junglers les plus polyvalents de League of Legends car il peut être construit de nombreuses façons différentes. Avec beaucoup de CC intégré, il n'a pas besoin de s'adapter aux AP pour être efficace, il peut construire un tank pur et aider à dominer. Alternativement, vous pouvez concentrer votre construction d'Amumu sur beaucoup de AP et infliger des dégâts massifs sans l'aide de ses coéquipiers.
Quelle est la plus grande faiblesse d'Amumu ?
Amumu est très dépendant du skillshot. Vous devez être capable d'anticiper les mouvements de vos adversaires. Si vous le ratez, vous ne pouvez pas faire grand chose. De plus, les sbires peuvent bloquer son Q. Cela peut parfois rendre le ganking difficile avec lui.