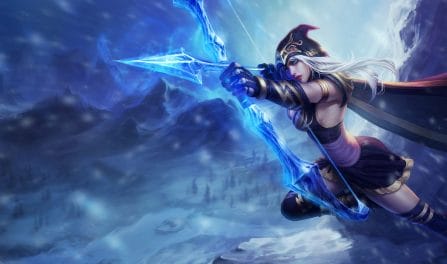 Les meilleures runes, objets et conseils pour dominer votre compétition
313,753 Ashe Builds Analyzed
Meilleurs objets pour le Build de

Ashe
The most important items to incorporate into your Ashe build include: Immortal Shieldbow, Wit's End, Rapid Firecannon, and Guinsoo's Rageblade. Furthermore, similar to our rune builds, you can also get quality, dedicated, Ashe item builds farther down for the specific enemy team composition you are facing in your current game. Those who added these pieces in their setups had a significantly better win rate than those who used other Ashe builds.
Ashe

Items to Defeat Focused Team Comps
Best

Ashe

Runes for Your Next Build

Tempo mortel

Présence d'esprit

Légende : sangsue

Abattage

Concentration absolue

Tempête menaçante
If you are battling a varied enemy team comp, you should strongly consider getting yourself the Lethal Tempo, Presence of Mind, Legend: Bloodline, Cut Down, Absolute Focus, and Gathering Storm runes. In recent games, she won the greatest fraction of her rounds when equiped with these runes. Yet, if you are battling a more homogenous enemy team comp, such as an AP heavy or a crowd control heavy team, you should instead scrollbrowse further down to view the best Ashe runes to defeat your particular combination of foes.
Ashe

Runes to Beat Dedicated Enemy Teams

Déluge de lames

Coup bas

Arracheur d'œil

Chasseur vorace

Légende : alacrité

Coup de grâce
We came up with our Ashe build suggestions by examining 313,753 recently ranked League rounds with her selected. We only recommend the highest winrate Ashe builds that have been used by ranked League players enough times for us to propose them. With so many games in our dataset, we are quite confident in our recommended builds.
Additionally, to view the best Ashe build from a different skill rank, you can choose a different skill tier from the dropdown menu above. The proposed Ashe builds will update to characterize that division's meta.
Ashe peut-il attaquer en se déplaçant ?
Yes. Ashe is a great champion to kite with. Her auto-attacks slow her target with each hit. However, she is still an easy target for melee champions with a lot of engage potential, such as Tryndamere or Riven. If you want to kite more, your LoL Ashe build should focus on building sustained movement increase or burstable speed.
Pourquoi devrais-je choisir Ashe plutôt que Draven ?
Oui. Ashe est une championne idéale pour les attaques en déplacement. Ses attaques automatiques ralentissent sa cible à chaque coup. Cependant, elle reste une cible facile pour les champions de mêlée ayant un fort potentiel d'engagement, comme Tryndamere ou Riven. Si vous voulez faire plus d'attaques en déplacement, votre build d'Ashe LoL devrait se concentrer sur l'augmentation de la vitesse de déplacement ou de la vitesse explosive.