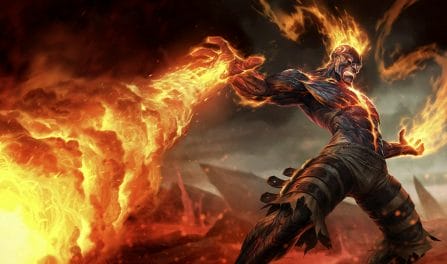 Les meilleures runes, objets et conseils pour dominer votre compétition
230,843 Brand Builds Analyzed
We set our Brand build guidance by examining 230 843 recently ranked League rounds with him in them. We only recommend the top winrate Brand builds that were built by ranked gamers enough times for us to propose them. With so many matches in our data, we are confident in our provided builds.
Additionally, Brand builds specific to a particular skill division can be displayed by choosing another rank from the dropdown menu located above. The suggested Brand build shown will be specific to that tier's meta.
Meilleurs objets pour le Build de

Brand
The most critical items to incorporate into your champion's build are: Affliction de Liandry,Sceptre de Rylai, and Étreinte démoniaque. Players who added these items in their kits had a significantly better win rate than players who utilized other Brand builds.
Yet, similar to our rune advice, you can also find quality, dedicated, Brand item builds farther down for the particular enemy team comp you are playing in your ongoing game.
Brand

Items to Defeat Focused Team Comps
Best

Brand

Runes for Your Next Build

Moisson noire

Goût du sang

Arracheur d'œil

Chasseur ultime

Présence d'esprit

Abattage
If you are battling a mixed enemy team composition, you should really consider grabbing yourself the Domination, and Précision runes. In recent matches, he won the greatest fraction of his games when equipped with these runes.
However, if you are facing a different enemy team comp, such as an AP centric or a crowd control heavy team, you should instead scroll a little below to use the best Brand runes to win your particular game.
Brand

Runes to Beat Dedicated Enemy Teams

Comète arcanique

Ruban de mana

Transcendance

Brûlure

Coup bas

Chasseur ultime
Quand dois-je utiliser l'Ulti de Brand ?
L'ulti de Brand rebondit entre les cibles. S'il est utilisé seul, il ne donnera pas la priorité aux champions ennemis. Cependant, si les cibles sont déjà touchées par brasier, l'ulti de Brand donnera la priorité aux champions proches. S'il y a des minions à proximité, vous devez toucher vos cibles avec braisier avant de l'utiliser ou la plupart des dégâts seront gaspillés. Le meilleur moment pour l'utiliser est lorsque vous n'affrontez que des champions ennemis et qu'ils sont proches les uns des autres.
Quels objets puis-je ajouter à mon build de Brand dans LoL pour qu'il soit plus utile à l'équipe ?
Brand fait beaucoup de dégâts sur la durée. En ajoutant le Sceptre de cristal de Rylai à votre build de Brand, vous le rendrez beaucoup plus utile en ralentissant plusieurs ennemis dans chaque combat d'équipe.