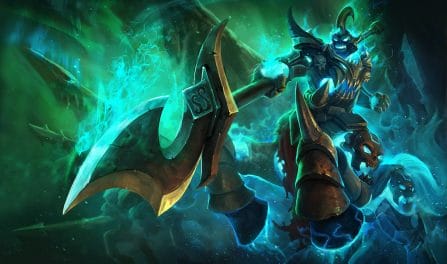 Les meilleures runes, objets et conseils pour dominer votre compétition
52,447 Hecarim Builds Analyzed
Meilleurs objets pour le Build de

Hecarim
The best items to include in your Hecarim build are: Divine Sunderer, Spirit Visage, Maw of Malmortius, and Force of Nature. Additionally, like our rune recommendations, you can also get great, focused, Hecarim item builds below for the specific enemy team comp you are fighting in your ongoing match. Players who added these items in their gear had a greater winrate than those who went for other builds for Hecarim.
Hecarim

Items to Defeat Focused Team Comps
Best

Hecarim

Runes for Your Next Build

Conquérant

Triomphe

Légende : ténacité

Baroud d'honneur

Chasseur vorace

Coup bas
If you are fighting a mixed enemy team composition, you should really consider grabbing him the Conqueror, Triumph, Legend: Tenacity, Last Stand, Ravenous Hunter, and Cheap Shot runes. In recent games, he won the greatest percentage of his matches when using these runes. Yet, if you are playing a more homogenous enemy team comp, such as an AP heavy or a crowd control focused team, you should instead look a little down to view the best Hecarim runes to win your particular game.
Hecarim

Runes to Beat Dedicated Enemy Teams

Conquérant

Triomphe

Légende : ténacité

Baroud d'honneur

Goût du sang

Chasseur vorace
Our Hecarim builds come out of our evaluation of 52,447 recently ranked Hecarim matches. Only the top win rate Hecarim builds that are also commonly used are suggested by us. Since we have so many rounds in our database, we are sure that we can generate high quality builds for Hecarim to help ensure you win your next round!
Additionally, Hecarim builds specific to a particular skill division can be seen by choosing another rank from the dropdown menu located above. The recommended Hecarim build shown will be specific to that tier's meta.
Quelles sont les forces et les faiblesses d'Hecarim en LoL ?
La plus grande force d'Hecarim est son incroyable vitesse. Sur une distance modérée, il peut attraper à peu près n'importe quel champion. Pourtant, comparé à d'autres chasseurs, comme Rammus, il est beaucoup moins rapide. Faites attention à ce que vous faites. Vous pouvez facilement en prendre plus que vous ne pouvez gérer si vous poursuivez un grand groupe d'ennemis.
Devrais-je construire Hecarim pour plus de dégâts, de tank ou de mobilité ?
Le meilleur build d'Hecarim dépendra de la composition de l'équipe à laquelle vous faites face. Consultez nos constructions spécifiques d'Hecarim avec runes et objets pour différentes compositions d'équipes ennemies, ci-dessus. Ceci étant dit, la mobilité sera toujours un avantage pour Hecarim. Si vous recherchez les dégâts et/ou le tank, prenez quelques objets de mobilité pour vous assurer que vous pouvez vous positionner rapidement.