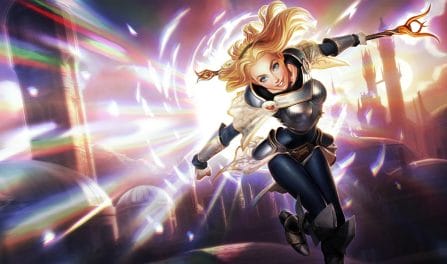 Les meilleures runes, objets et conseils pour dominer votre compétition
428,111 Lux Builds Analyzed
Our Lux builds come from our analysis of 428 111 recently ranked Lux games. Only the highest win rate Lux builds that are also commonly used are recommended by us. Since we have so many rounds in our database, we are sure that we can produce high quality builds for L to help ensure you win your next game!
Additionally, to get Lux builds dedicated to a unique skill level, select your desired division from the dropdown menu located above. If you change the selection, the ideal Lux build given will be based on that tier's meta gameplay.
Meilleurs objets pour le Build de

Lux
The most important items to include in your champion's build include: Tempête de Luden,Éclat de glace pure, and Volonté cosmique. Those who added these pieces in their kits had a much higher winrate than players who worked towards other builds for Lux.
Moreover, as with our rune setups, you can also get great, focused, Lux item builds below for the particular enemy team composition you are playing in your ongoing match.
Lux

Items to Defeat Focused Team Comps
Best

Lux

Runes for Your Next Build

Moisson noire

Coup bas

Arracheur d'œil

Chasseur ultime

Transcendance

Brûlure
If you are facing a well-mixed enemy team arrangement, you should strongly consider getting yourself the Domination, and Sorcellerie runes. In recent games, she won the greatest number of her matches when equipped with these runes.
However, if you are battling a different enemy team composition, such as an AD focused or a CC centric team, you should instead scroll a little down to view the best Lux runes to win your particular match.
Lux

Runes to Beat Dedicated Enemy Teams

Comète arcanique

Ruban de mana

Transcendance

Brûlure

Coup de grâce

Présence d'esprit
Où dois-je diriger mon E (Singularité lucide) ?
Si vous voulez mieux cibler votre tir d'adresse AoE avec Lux en Ligue, essayez de le lancer juste un peu derrière votre ennemi. La plupart du temps, les autres joueurs semblent courir en arrière pour éviter votre tir. Si vous le lancez un peu derrière eux, ils resteront dans la zone d'effet, même s'ils essaient de l'esquiver. S'ils courent vers l'avant, enracinez-les avec votre Q.