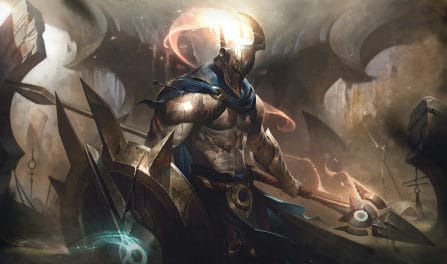 Les meilleures runes, objets et conseils pour dominer votre compétition
84,169 Pantheon Builds Analyzed
We established our Pantheon build recommendations by analyzing 84 169 recently ranked League games with him selected. We only recommend the best winrate Pantheon builds that were used by ranked LoL players enough times for us to suggest them. With so many rounds in our dataset, we are quite confident in our recommended builds.
Additionally, to see the best Pantheon build designed for a different skill division, you can choose a different skill tier from the dropdown menu above. The proposed Pantheon builds will change to characterize that division's meta.
Meilleurs objets pour le Build de

Pantheon
The best items to use in your champ's build are: Éclipse,Gage de Sterak, and Danse de la mort. Players who added these pieces in their setups had a much better win rate than those who worked towards other builds for Pantheon.
Additionally, like our rune suggestions, you can also get quality, focused, Pantheon item builds a little further down for the specific enemy team composition you are fighting in your ongoing game.
Pantheon

Items to Defeat Focused Team Comps
Best

Pantheon

Runes for Your Next Build

Conquérant

Triomphe

Légende : alacrité

Baroud d'honneur

Livraison de biscuits

Philtre de chronodistorsion
If you are facing a varied enemy team composition, you should strongly consider getting him the Précision, and Inspiration runes. In recent games, he won the largest percentage of his games when using these runes.
Yet, if you are playing a more focused enemy team composition, such as an AD heavy or a CC centric team, you should instead browse a little down to view the best Pantheon runes to win your particular game.
Pantheon

Runes to Beat Dedicated Enemy Teams

Conquérant

Triomphe

Légende : alacrité

Coup de grâce

Goût du sang

Chasseur vorace
L'assaut de l'égide de Pantheon peut-il également bloquer les tirs de tourelle ?
Oui. Le Pantheon de LoL peut bloquer les tirs des tours. Vous pouvez utiliser cette compétence pour vous aider à survivre à plus de plongées sous les tours.
Qu'est-ce qui fait de Pantheon un excellent soutien dans League of Legends ?
Pantheon est le plus souvent joué dans la top lane, cependant, il peut aussi être un excellent soutien. Son CC à distance, son caractère de tankiste et son Ulti semi-global lui confèrent une grande utilité.