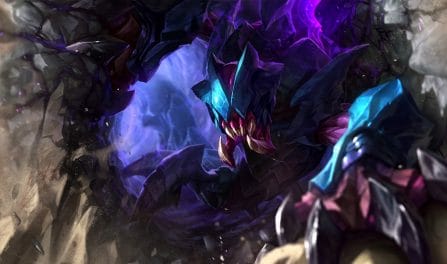 Statistiques sur le champion LoL et ventilation des méta
21,301 Rek'Sai Matches Analyzed
These champion stats were determined using 21,301 recently played, ranked Rek'Sai games. MOBA Champion downloads competitive match results directly from Riot's servers. Having a large number of LoL rounds to analyze gives us a lot of confidence in our ability to provide precise Rek'Sai statistics. He didn't do a good job in recent games. He has a poor win rate of 47.4%.
In the current meta, Rek'Sai is not at all popular. He has been played in only 0.7% of recently ranked matches. Hardly anyone sees him as a danger. He has only been banned in about 0.2% of League matches.
He is a powerful damage dealer in the game with 8 kills on average per match. That is the 6th highest kill rate amongst all jungles. (There are 39 champ in totals that are most commonly chosen for in the jungle position.) Furthermore, he has a relatively high average death count (6 deaths; 7th out of all jungles). Moreover, Rek'Sai has an average KDA ratio (2.2) with 7 assists (30th amongst all jungle type champions).
Taux de victoire au fil du temps de

Rek'Sai
Our calculated overall Rek'Sai win rate is the 35th best out of all jungles. He is most dominating in the late phase of the game with a 48.9% win rate in that phase. In contrast, he has a 46.7% win rate in the mid phase and a 47.4% win rate overall. There is only a small difference between these Rek'Sai win rates (2.2%). This negligible difference indicates that his power is flat throughout a whole round.
Statistiques sur les positions de

Rek'Sai
Rek'Sai is played mostly in the jungle position. This occurs in 93% of his games. Jungle Rek'Sai also has the highest win rate (47.2%) of all positions. At this time, Rek'Sai's meta game is focused on dealing damage. In particular, his build should mainly be centered around physical damage. Additionally, he is an ok tank champ. Dealing magical damage is the least important part of Rek'Sai's playstyle.
You should expect to have to to dedicate only a little bit of time practicing and learning to get good at Rek'Sai. Many League gamers think he is an easy champ to get good at. Rek'Sai primarily causes physical damage (80% of his total damage). He doesn't deal a significant amount of magical damage and should not be considered a hybrid damage dealer.
Rek'Sai deals a decent amount of damage during a typical game (15,134 damage). You may want to focus on building him as a damage dealing champion to smash your opponents.
Statistiques de base de

Rek'Sai
Résistance à la magie
32 - 53.25
Vitesse de déplacement
335
An apex predator, Rek'Sai is a merciless Void-spawn that tunnels beneath the ground to ambush and devour unsuspecting prey. Her insatiable hunger has laid waste to entire regions of the once-great empire of Shurima—merchants, traders, even armed...
We comb through millions of League of Legends matches pulled directly from Riot's servers each week and analyze the data using advanced algorithms to bring you the most accurate Rek'Sai stats online. We analyze the data by tier, so you can find the most relevant Rek'Sai win rate and other stats.