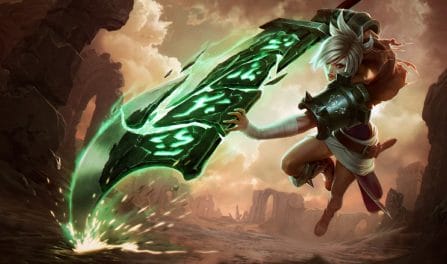 Les meilleures runes, objets et conseils pour dominer votre compétition
100,230 Riven Builds Analyzed
Meilleurs objets pour le Build de

Riven
The most critical items to incorporate into your Riven build include: Goredrinker, Black Cleaver, Ravenous Hydra, and Edge of Night. Yet, like our rune suggestions, you can also find great, focused, Riven item builds below for the specific enemy team composition you are playing in your current match. Those who included these pieces in their setups had a much higher winrate than players who went for other Riven builds.
Riven

Items to Defeat Focused Team Comps
Best

Riven

Runes for Your Next Build

Conquérant

Triomphe

Légende : alacrité

Baroud d'honneur

Tempête menaçante

Orbe anti-magie
If you are playing a varied enemy team comp, you should really consider grabbing yourself the Conqueror, Triumph, Legend: Alacrity, Last Stand, Gathering Storm, and Nullifying Orb runes. In recent games, she won the largest fraction of her games when built with these runes. Yet, if you are fighting a more single focused enemy team comp, such as an AD focused or a tank centric team, you should instead look further down to find the best Riven runes to win your particular round.
Riven

Runes to Beat Dedicated Enemy Teams

Conquérant

Triomphe

Légende : alacrité

Baroud d'honneur

Plaque d'os

Surcroissance
We came up with our Riven build suggestions by analyzing 100,230 recently ranked LoL games with her selected. We only propose the highest winrate Riven builds that were built by ranked League players enough times for us to propose them. With so many rounds in our data, we are very confident in our suggested builds.
Additionally, Riven builds dedicated to a particular skill rank can be seen by picking another division from the dropdown menu found above. The suggested Riven build shown will be specific to that division's meta.
Quelles sont les plus grandes forces de Riven ?
L'une des plus grandes forces de Riven est qu'elle est sans mana. Cela lui permet de farmer et d'utiliser ses capacités. La plupart des ennemis ne peuvent pas suivre son rythme ou sa capacité à s'engager à tout moment. De plus, Riven est très mobile. Sa capacité lui permet de s'élancer vers l'avant ou de s'échapper si nécessaire. Enfin, vous pouvez être très libre avec votre build Riven LoL. Elle s'adapte très bien à l'AD, à la pénétration d'armure et au CDR.
Quelle est l'une des plus grandes faiblesses de Riven ?
Riven est très sensible à un CC. Si elle reçoit beaucoup de CC dur, sa grande mobilité est annulée. Votre build de Riven doit être choisi en fonction de la quantité de CC à laquelle elle est confrontée. Ci-dessus, nous vous proposons des objets et des runes spécifiques à Riven pour affronter les équipes à CC élevé.