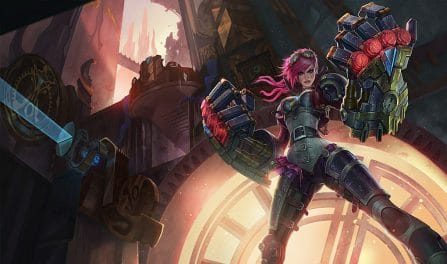 Les meilleures runes, objets et conseils pour dominer votre compétition
133,231 Vi Builds Analyzed
We set our Vi build guidance by examining 133 231 recently ranked League rounds with her in them. We only propose the highest winrate Vi builds that have been used by ranked League players enough times for us to advise them. With so many matches in our dataset, we are confident in our recommended builds.
Additionally, to view the best Vi build for a different skill level, you can pick a different one from the dropdown above. The recommended Vi builds will update to capture that division's meta.
Meilleurs objets pour le Build de

Vi
The most essential items to use in your champion's build include: Pourfendeur divin,Ange gardien, and Gage de Sterak. Those who included these pieces in their setups had a higher winrate than players who utilized other builds for Vi.
Furthermore, like our rune suggestions, you can also find quality, dedicated, Vi item builds below for the specific enemy team comp you are playing in your ongoing game.
Vi

Items to Defeat Focused Team Comps
Best

Vi

Runes for Your Next Build

Déluge de lames

Ruée offensive

Arracheur d'œil

Chasseur acharné

Triomphe

Coup de grâce
If you are fighting a well-mixed enemy team arrangement, you should really consider grabbing yourself the Domination, and Précision runes. In recent matches, she won the largest number of her matches when equipped with these runes.
Although, if you are facing a more homogenous enemy team comp, such as an AD heavy or a CC centric team, you should instead browse a little below to view the best Vi runes to defeat your particular enemy team.
Vi

Runes to Beat Dedicated Enemy Teams

Déluge de lames

Ruée offensive

Arracheur d'œil

Chasseur ultime

Triomphe

Coup de grâce