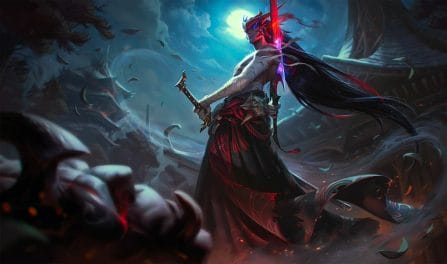 Les meilleures runes, objets et conseils pour dominer votre compétition
286,491 Yone Builds Analyzed
We established our Yone build guidance by analyzing 286 491 recently ranked LoL games with him in them. We only propose the best winrate Yone builds that were built by ranked gamers enough times for us to advise them. With so many games in our data, we are very confident in our suggested builds.
Additionally, to view the best Yone build for a different skill rank, please select a different skill tier from the dropdown menu above. The proposed champ builds will change to characterize that skill level's meta.
Meilleurs objets pour le Build de

Yone
The most important items to incorporate into your champ's build include: Arc-bouclier immortel,Lame d'infini, and Danseur fantôme. Those who included these pieces in their builds had a greater winrate than players who went for other Yone builds.
Yet, like our rune recommendations, you can also get great, dedicated, Yone item builds farther down for the particular enemy team setup you are facing in your next match.
Yone

Items to Defeat Focused Team Comps
Best

Yone

Runes for Your Next Build

Conquérant

Triomphe

Légende : alacrité

Abattage

Goût du sang

Chasseur vorace
If you are playing a varied enemy team composition, you should really consider grabbing him the Précision, and Domination runes. In recent games, he won the largest fraction of his rounds when equipped with these runes.
Yet, if you are facing a different enemy team comp, such as an AP heavy or a CC centric team, you should instead scroll further down to see the best Yone runes to defeat your particular combination of foes.
Yone

Runes to Beat Dedicated Enemy Teams

Conquérant

Triomphe

Légende : alacrité

Baroud d'honneur

Chasseur vorace

Goût du sang