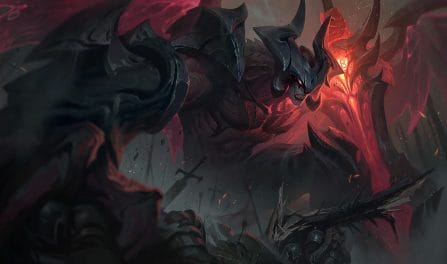 To prepare these 아트록스 stats, we analyzed 131,561 recent competitive LoL games with him chosen. We pull competitive game records directly from Riot's servers. This gives us great confidence in our 아트록스 statistics. He didn't do a good job in recent matches. He has an average win rate of 49.5%.
In the current meta, 아트록스 is somewhat popular. He has been used in 4.3% of recently ranked matches. He is rarely banned during champion select. Obviously, very few players see him as a significant threat. In the latest ranked matches, 아트록스 was banned 2.5% of the time.
Because of 아트록스's K/D/A and utility, he has a fairly average overall win rate. He does best in the late game, with a winrate of NaN% in that phase. Unfortunately, he does worst in the late game, where 아트록스's win rate is NaN%., The difference between his best and worst game phases is a large NaN%. This large difference shows us that his power spikes and fades in different parts of the round. Plan accordingly.
아트록스 is most commonly played in the top position. This occurs in [object Object]% of his rounds. Yet, top 아트록스 has the highest win rate ([object Object]%) of all positions but is less popular of a position (played [object Object]% of the time). At this time, 아트록스's meta game is centered around dealing damage. In particular, his gameplay should primarily be centered around physical damage. Dealing magical damage is the least significant part of 아트록스's kit.
If you are not comfortable with his skills and tactics, you will not find it difficult picking him up for the first time. Many competitors believe him to not be a tough champion to learn. 아트록스 primarily causes physical damage (98% of his total damage). He doesn't deal a lot of other damage types and should not be played as hybrid damage dealer..
아트록스 deals a good amount of damage over the course of a regular ranked game (18,708 damage). You may want to focus on developing him as a powerful champion to destroy your opponents.
한때는 공허에 맞서 싸웠던 슈리마의 명예로운 수호자 아트록스와 그의 종족은 결국 공허보다 위험한 존재가 되어 룬테라의 존속을 위협했지만, 교활한 필멸자의 마법에 속아넘어가 패배하게 되었다. 수백 년에 걸친 봉인 끝에, 아트록스는 자신의 정기가 깃든 마법 무기를 휘두르는 어리석은 자들을 타락시키고 육신을 바꾸는 것으로 다시 한번 자유의 길을 찾아내었다. 이제 이전의 잔혹한 모습을 닮은 육체를 차지한 아트록스는 세상의 종말과 오랫동안 기다려온 복수를...
He is an average damage dealer in the game with 5.5 kills on average per match. That is one of the highest kill rates amongst all tops. 'Moreover, he has a somewhat typical death total with an average of 5.7 deaths per LoL game. Furthermore, 아트록스's KDA is typically low with an average KDA ratio of 2.0 as well as 5.9 assists per game.
매주 라이엇 서버에서 직접 가져온 100만 개가 넘는 리그 오브 레전드 매치들을 열람하고 심화된 알고리즘으로 데이터를 분석하여 가장 정확한 아트록스 통계를 제공해 드립니다. 티어 별로 데이터를 분석하기 때문에 본인에 가장 관련된 아트록스 승률 및 기타 통계를 찾으실 수 있습니다.