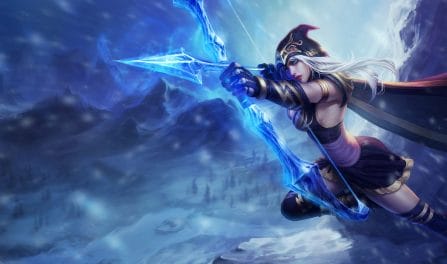 These champ statistics were prepared using 525,060 recently played, ranked 애쉬 matches. We pull ranked match results directly from Riot's own database. Having a large number of LoL rounds to analyze gives us great confidence in our capability to give you accurate 애쉬 statistics. Across all matches, 애쉬 did perform very well, with an above average win rate of 51.6%.
In the current meta, 애쉬 is incredibly popular. She has been used in 17.1% of recently ranked rounds. Some players see her as a threat. She has been banned in approximately 6.1% of League of Legends rounds.
Because of 애쉬's K/D/A and utility, she has a pretty good overall win rate. She does best in the late game, with a winrate of NaN% in that phase. Unfortunately, she does poorest in the late game, where 애쉬's win rate is NaN%., The difference between her best and worst game phases is a large NaN%. This large difference indicates that her power spikes and wanes in different parts of the round. Plan accordingly.
애쉬 is most commonly played in the bottom position. This happens in [object Object]% of her rounds. Bottom 애쉬 also has the highest win rate ([object Object]%) of all positions. At this time, 애쉬's meta game is centered around dealing damage. Specifically, her build should mostly be centered around physical damage. Dealing magical damage is the least critical part of 애쉬's build.
You should anticipate having to dedicate only a little bit of time practicing and learning to get good at playing 애쉬. Many League of Legends gamers think she is one of the easiest champ to get good at. 애쉬 primarily does physical damage (82% of her total damage). She doesn't deal a lot of other damage types and should not be played as hybrid damage dealer..
애쉬 deals a decent amount of damage during a normal game (16,777 damage). You may want to focus on developing her as a powerful champ to crush your opponents.
아바로사 부족의 냉기의 화신이자 전쟁의 어머니인 애쉬는 북방에서 가장 규모가 큰 군단을 이끌고 있다. 절제력이 뛰어나고 총명한데다 이상주의적인 면을 갖추고 있지만 지도자라는 역할을 부담스러워하기도 한다. 고대 마법의 힘이 흐르는 혈통을 이어받았기에 얼음 정수의 활을 무기로 사용할 수 있다. 아바로사 부족민들은 애쉬가 전설 속 영웅 아바로사 여왕의 화신이라고 굳게 믿으며, 애쉬는 이들과 함께 먼 옛날 자신의 부족이 살았던 영토를 되찾아 다시 한 번...
If you are looking for a dominating carry, then you should maybe consider this champ. She has one of the top kill counts in the game amongst all champs. Additionally, she has a fairly typical average champion death count (6 deaths). Moreover, 애쉬 has an average KDA ratio (2.5) with 9.1 assists.
매주 라이엇 서버에서 직접 가져온 100만 개가 넘는 리그 오브 레전드 매치들을 열람하고 심화된 알고리즘으로 데이터를 분석하여 가장 정확한 애쉬 통계를 제공해 드립니다. 티어 별로 데이터를 분석하기 때문에 본인에 가장 관련된 애쉬 승률 및 기타 통계를 찾으실 수 있습니다.