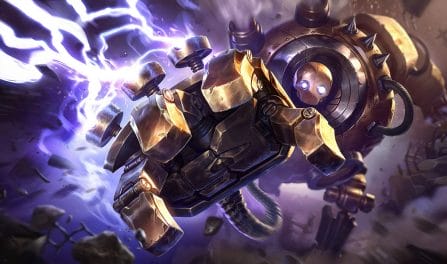 게임을 압도하기 위한 베스트 룬, 아이템과 팁
231,270개의 블리츠크랭크 빌드 분석 결과
Our 블리츠크랭크 builds come from our examination of 231,270 recently ranked 블리츠크랭크 games. Only the highest win rate 블리츠크랭크 builds that are also commonly used are suggested by us. Since we have so many games in our dataset, we are very confident that we can show you the highest quality builds for 크 to help you win your next match!
Additionally, 블리츠크랭크 builds specific to a particular skill division can be displayed by selecting another rank from the dropdown menu found above. The suggested 블리츠크랭크 build shown will be focused on that tier's meta.
The most critical items to incorporate into your champion's build include: 강철의 솔라리 펜던트,지크의 융합, and 기사의 맹세. Those who included these pieces in their gear had a much better win rate than those who utilized other 블리츠크랭크 builds.
Furthermore, like our rune advice, you can also get great, focused, 블리츠크랭크 item builds farther down for the specific enemy team comp you are fighting in your next match.

여진

생명의 샘

뼈 방패

불굴의 의지

비스킷 배달

시간 왜곡 물약
If you are fighting a mixed enemy team arrangement, you should strongly consider getting 블리츠크랭크 the 결의, and 영감 runes. In recent games, he won the greatest fraction of his matches when equipped with these runes.
Although, if you are playing a different enemy team composition, such as an AP heavy or a tank heavy team, you should instead browse a little down to see the best 블리츠크랭크 runes to win your particular round.
블리츠크랭크로

빡겜하는 상대 팀을 이길 수 있는 룬

수호자

생명의 샘

뼈 방패

불굴의 의지

비스킷 배달

시간 왜곡 물약