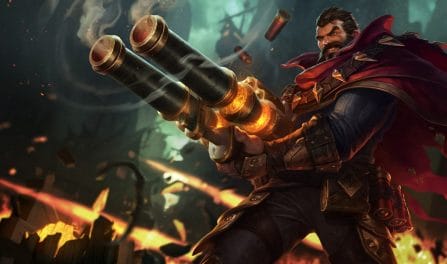 그레이브즈과(와) 시너지가 좋은 챔피언과 카운터 픽
220,189건의 그레이브즈 카운터와 매치 업 분석 결과
To determine the greatest and worst counters for 그레이브즈, we analyzed the results of 220,189 recently completed, ranked League matches. We determined which champions have the best and worst win rates against him. Moreover, we found those rare champs that are ideal allies and who could help prevent him from being countered. Having evaluated so many games gives us lots of certainty in our 그레이브즈 counter stats.
As you can see above, 아무무 is the best challenger for 그레이브즈 with a 53.7% win fraction against him. In a close second and third place, 신 짜오 and 킨드레드 are the next biggest counters to 그레이브즈. They have win rates of 52.4% and 51.8%, respectively. You should not bring him into a game where any of these other champions has been chosen.
Conversely, if you're facing off against 샤코, you should anticipate doing much better. 그레이브즈 counters them with a very respectable win rate of 51.7%. Equally, you should anticipate doing very well when facing 리 신 and 케인. These champs have the next worst winrates against 그레이브즈.
If you want good champ pairings for your own teammates to advance your win percentage, take a look at the 그레이브즈 synergies.
Regardless of his chosen position, he does very well when on the same team as 탐 켄치. This combination usually increases his average win rate by a few percent. 애쉬 and 직스 are also superb champions to fight alongside.
To examine the details and best 그레이브즈 counter builds for a specific matchup, you should click the related row in one of the tables above. If you want specific 그레이브즈 counters that aren't shown here, you can click the button near the top of the page to see them.
To reduce the 그레이브즈 counters to a specific ranked division only, select the desired skill level from the dropdown menu above. The given champion counters and pairings will update.
저희는 매주 라이엇 서버에서 직접 몇 백만개의 리그 오브 레전드 매치를 가져와 전통적인 통계와 첨단 머신 러닝 알고리즘을 둘 다 사용하여 데이터를 분석합니다. 실제 데이터에 기반하여 그레이브즈의 정확한 카운터픽을 알려드립니다.