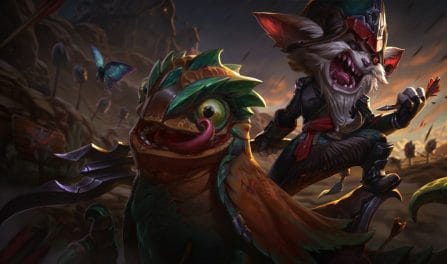 게임을 압도하기 위한 베스트 룬, 아이템과 팁
The most critical items to incorporate into your Kled build include: Stridebreaker, Guardian Angel, Black Cleaver, and Ravenous Hydra. Furthermore, similar to our rune advice, you can also get great, dedicated, Kled item builds farther down for the particular enemy team composition you are battling in your ongoing match. Those who added these pieces in their setups had a much better win rate than players who tried for other Kled builds.

정복자

승전보

전설: 민첩함

최후의 일격

불굴의 의지

철거
If you are playing a well-mixed enemy team comp, you should really consider grabbing Kled the Conqueror, Triumph, Legend: Alacrity, Coup de Grace, Unflinching, and Demolish runes. In recent matches, he won the largest fraction of his rounds when equiped with these runes. Yet, if you are facing a different enemy team comp, such as an AP centric or a crowd control centric team, you should instead look further down to see the best Kled runes to win your particular game.
클레드로

빡겜하는 상대 팀을 이길 수 있는 룬

정복자

승전보

전설: 민첩함

최후의 저항

재생의 바람

소생
We set our Kled build recommendations by examining 32,431 recently ranked LoL rounds with him in them. We only advise the best winrate Kled builds that have been used by ranked League players enough times for us to advise them. With so many rounds in our data, we are confident in our provided builds.
Additionally, to get Kled builds specific to a unique division, select your desired division from the dropdown menu located above. If you select a different division, the best Kled build given will be based on that division's meta gameplay.