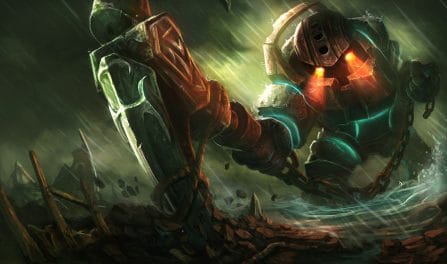 게임을 압도하기 위한 베스트 룬, 아이템과 팁
We calculated our 노틸러스 build guidance by analyzing 269,265 recently ranked League of Legends rounds with him selected. We only propose the top winrate 노틸러스 builds that have been built by ranked LoL players enough times for us to reccomend them. With so many rounds in our dataset, we are very confident in our suggested builds.
Additionally, to see 노틸러스 builds specific to a unique skill level, pick a different division from the dropdown menu found above. If you change the selection, the best 노틸러스 build given will capture that tier's meta.
The most critical items to use in your champion's build include: 강철의 솔라리 펜던트,가시 갑옷, and 기사의 맹세. Those who included these pieces in their setups had a greater win rate than those who worked towards other 노틸러스 builds.
Moreover, similar to our rune recommendations, you can also find quality, dedicated, 노틸러스 item builds a little further down for the specific enemy team setup you are facing in your ongoing match.

여진

보호막 강타

뼈 방패

불굴의 의지

비스킷 배달

마법공학 점멸기
If you are playing a well-mixed enemy team composition, you should really consider grabbing him the 결의, and 영감 runes. In recent matches, he won the largest fraction of his matches when equipped with these runes.
Yet, if you are battling a more homogenous enemy team comp, such as an AP heavy or a tank centric team, you should instead scroll a little down to get the best 노틸러스 runes to defeat your particular set of opponents.
노틸러스로

빡겜하는 상대 팀을 이길 수 있는 룬

여진

철거

뼈 방패

과잉성장

비스킷 배달

우주적 통찰력