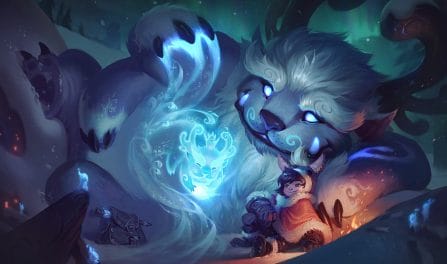 To generate these 누누와 윌럼프 stats, we reviewed 142,807 recent ranked LoL games with him chosen. MOBA Champion pulls competitive match stats directly from Riot's servers. This allows us to be very confident in our 누누와 윌럼프 statistics. Across all games, 누누와 윌럼프 did perform very well, with an average win rate of 50.5%.
누누와 윌럼프 has been picked somewhat often in recent ranked LoL games. In the current meta, his popularity is 4.8%. Hardly anyone sees him as a threat. He has only been banned in about 1.8% of League rounds.
Thanks to 누누와 윌럼프's K/D/A and utility, he has a fairly average overall win rate. He does best in the late game, with a winrate of NaN% in that phase. Unfortunately, he does terribly in the late game, where 누누와 윌럼프's win rate is NaN%., The difference between his best and worst game phases is a large NaN%. This large difference indicates that his power spikes and wanes in different phases of the round. Plan accordingly.
누누와 윌럼프 is played mostly in the jungle position. This happens in [object Object]% of his matches. Jungle 누누와 윌럼프 also has the highest win rate ([object Object]%) of all positions. Currently, 누누와 윌럼프's meta game is centered around dealing damage. In particular, his build should mainly be centered around magical damage. Additionally, he is an ok tank champion. Dealing physical damage is the least critical part of 누누와 윌럼프's gameplay.
You should expect to have to to dedicate only a little bit of time practicing and learning to pick up 누누와 윌럼프. Many LoL gamers think he is an easy champion to master. 누누와 윌럼프 primarily does magic damage (82% of his total damage). He doesn't deal much of other damage types and should not be played as hybrid damage dealer..
누누와 윌럼프 deals a small amount of damage over the course of a normal match (11,873 damage). You probably shouldn't focus on developing him as a powerful champ to smash your enemies. Instead, you should focus on assisting your teammates to beat your enemy.
아주 오랜 옛날, 무시무시한 괴물을 물리쳐 영웅이 되고 싶은 소년이 있었다. 하지만 소년이 발견한 것은 마법을 부리는, 단지 친구가 필요했던 외로운 설인이었다. 고대의 힘과 눈싸움으로 하나가 된 소년 누누와 설인 윌럼프는 프렐요드 곳곳을 누비며 상상 속의 모험을 떠난다. 실종된 누누의 어머니를 찾아 나선 누누와 윌럼프. 이들이 누누의 어머니를 구한다면 영웅이 될 수 있을지도...
If you are looking for a dominating carry, then you should maybe consider this champ. He has one of the top kill counts on the Rift amongst other champions. 'Moreover, he has a somewhat typical death rate with an average of 5.8 deaths per LoL round. Additionally, 누누와 윌럼프 has a high KDA ratio (2.8) with 11.8 assists.
매주 라이엇 서버에서 직접 가져온 100만 개가 넘는 리그 오브 레전드 매치들을 열람하고 심화된 알고리즘으로 데이터를 분석하여 가장 정확한 누누와 윌럼프 통계를 제공해 드립니다. 티어 별로 데이터를 분석하기 때문에 본인에 가장 관련된 누누와 윌럼프 승률 및 기타 통계를 찾으실 수 있습니다.