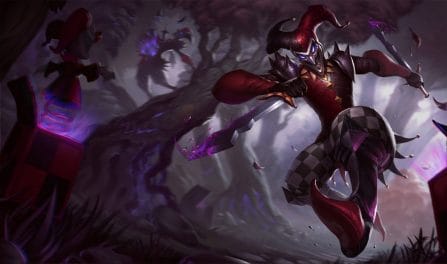 These champ statistics were computed using 218,276 recently played, ranked 샤코 matches. We pull competitive match data directly from Riot's own database. Having a large number of LoL games to analyze gives us great confidence in our ability to give you precise 샤코 stats. He did do a great job in recent games. He racked up an average win rate of 50.7%.
In the current meta, 샤코 is incredibly popular. He has been selected in 8.5% of recently ranked rounds. He is very often banned during champion select. Obviously, most players see him as a major threat. In the latest ranked games, 샤코 was banned 24.7% of the time.
Because of 샤코's K/D/A and utility, he has a fairly average overall win rate. He does best in the late game, with a winrate of NaN% in that phase. Unfortunately, he does poorest in the late game, where 샤코's winrate is NaN%., The difference between his best and worst game phases is a large NaN%. This large difference indicates that his power spikes and fades in different parts of the match. Prepare accordingly.
샤코 is most commonly played in the jungle position. This happens in [object Object]% of his rounds. Yet, jungle 샤코 has the highest win rate ([object Object]%) of all positions but is less popular of a position (played [object Object]% of the time). At this time, 샤코's meta game is focused on dealing damage. Specifically, his kit should mostly be centered around physical damage. Furthermore, he is a pretty good magical damage dealer champ. Supporting others and crowd control are the least critical part of 샤코's gameplay.
You should expect to have to to spend a significant amount of time practicing and learning to get good at playing 샤코. Most LoL gamers believe he is a challenging champion to get good at. 샤코 mostly does magic damage (53% of his total damage). He also deals a large amount of physical damage.
샤코 deals a decent amount of damage over the course of a regular ranked match (17,017 damage). You could focus on developing him as a powerful champion to smash your opponents.
샤코는 오래 전, 외로움을 타던 어느 왕자를 위한 장난감으로 만들어졌다. 하지만 이제는 살육과 참사를 즐기는 마법 깃든 인형이다. 이전에는 친절한 마음씨를 지닌 광대였지만, 흑마법으로 타락하고 사랑하는 이를 잃은 상실감 때문에 오로지 불쌍한 인간들을 고문하는 것에서만 기쁨을 느끼게 되었다. 장난감과 단순한 속임수를 이용하여 상대를 농락하고 목숨을 빼앗은 다음, 유혈낭자한 '유희'의 결과에 만족하며 웃는다. 한밤중에 음산한 웃음소리가 들리는가?...
If you are looking for a dominating damage dealer, then you should definitely consider this champion. He has one of the absolute best kill totals on the Rift amongst other champs. 'Moreover, he has a somewhat typical death rate with an average of 5.9 deaths per LoL game. Additionally, 샤코's KDA is typically very high with an average KDA ratio of 2.7 as well as 7.8 assists per game.
매주 라이엇 서버에서 직접 가져온 100만 개가 넘는 리그 오브 레전드 매치들을 열람하고 심화된 알고리즘으로 데이터를 분석하여 가장 정확한 샤코 통계를 제공해 드립니다. 티어 별로 데이터를 분석하기 때문에 본인에 가장 관련된 샤코 승률 및 기타 통계를 찾으실 수 있습니다.