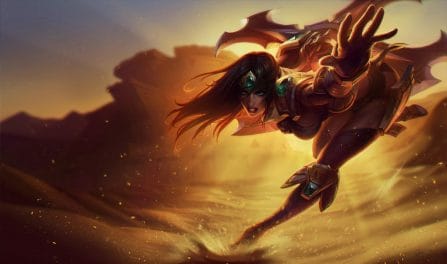 게임을 압도하기 위한 베스트 룬, 아이템과 팁
Our 시비르 builds come out of our analysis of 173,190 recently ranked 시비르 games. Only the top winrate 시비르 builds that are also commonly used are advised by us. Because we have so many matches in our database, we are quite sure that we can generate high quality builds for 시 to help you win your next game!
Additionally, 시비르 builds specific to a particular skill tier can be viewed by selecting a different rank from the dropdown menu located above. The suggested 시비르 build shown will be specific to that tier's meta.
The best items to incorporate into your champion's build include: 드락사르의 황혼검,정수 약탈자, and 징수의 총. Players who added these items in their builds had a better win rate than those who went for other item builds for 시비르.
Yet, as with our rune suggestions, you can also get great, focused, 시비르 item builds a little further down for the specific enemy team composition you are playing in your current match.

치명적 속도

침착

전설: 핏빛 길

최후의 일격

마나순환 팔찌

깨달음
If you are playing a varied enemy team composition, you should really consider grabbing yourself the 정밀, and 마법 runes. In recent matches, she won the greatest percentage of her games when built with these runes.
However, if you are trying to beat a singular enemy team composition, such as an AP focused or a crowd control centric team, you should instead browse a little below to view the best 시비르 runes to defeat your particular set of opponents.
시비르로

빡겜하는 상대 팀을 이길 수 있는 룬

어둠의 수확

피의 맛

사냥의 증표

굶주린 사냥꾼

전설: 민첩함

최후의 일격