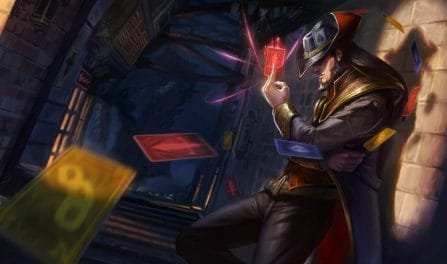 트위스티드 페이트과(와) 시너지가 좋은 챔피언과 카운터 픽
97,109건의 트위스티드 페이트 카운터와 매치 업 분석 결과
We computed the best and worst 트위스티드 페이트 counters using information extract from 97,109 ranked League of Legends games. We have figured out those champs with the best and worse rates of victory against him. Additionally, we calculated which champs can serve as good allies to help you win more League games.
As shown above, 야스오 is the best counter to 트위스티드 페이트 with a 56.5% win percentage against him. Similarly, 이렐리아 and 다이애나 are the next biggest counters to 트위스티드 페이트. These two champs have win rates of 56.2% and 55.4%, respectively. You should avoid bringing him into a round where one of these champions has been picked.
On the other hand, if you're playing against 라이즈, you should expect to do much better. 트위스티드 페이트 counters them with a very respectable win percentage of 53.3%. Equally, you should anticipate doing very well when battling 아칼리 and 르블랑. They have the next lowest winrates against 트위스티드 페이트.
If you are looking for great champ synergies for your own allies to improve your chances of winning, take a look at our champion synergies below.
트위스티드 페이트

과(와) 시너지가 좋은 챔피언
Regardless of his lane, he does admirably when paired with 녹턴. This combination usually raises his average win rate by a few percent. 카밀 and 드레이븐 are also fantastic champions to pair with.
If you are looking to find out more about a particular 트위스티드 페이트 counter, as well as the finest builds to employ in that matchup, please click the corresponding row in the tables above. If the specific 트위스티드 페이트 counters you are interested in are not found below, you can view all potential counters at the button above.
To see 트위스티드 페이트 pairings and counters from one skill level, you may use the dropdown menu above to filter the counter stats shown.
저희는 매주 라이엇 서버에서 직접 몇 백만개의 리그 오브 레전드 매치를 가져와 전통적인 통계와 첨단 머신 러닝 알고리즘을 둘 다 사용하여 데이터를 분석합니다. 실제 데이터에 기반하여 트위스티드 페이트의 정확한 카운터픽을 알려드립니다.