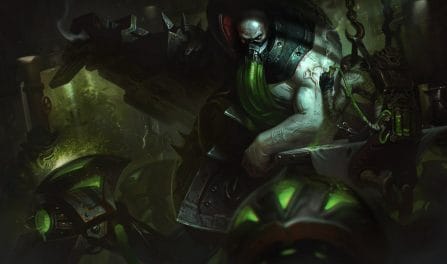 게임을 압도하기 위한 베스트 룬, 아이템과 팁
We came up with our 우르곳 build guidance by analyzing 160,315 recently ranked League games with him selected. We only advise the best winrate 우르곳 builds that have been built by ranked League players enough times for us to reccomend them. With so many games in our dataset, we are confident in our recommended builds.
Additionally, to view 우르곳 builds tailored to a unique division, select a different tier from the dropdown menu found above. In that case, the ideal 우르곳 build given will capture that tier's meta.
The best items to incorporate into your champion's build are: 선혈포식자,칠흑의 양날 도끼, and 가시 갑옷. Those who included these items in their kits had a significantly better winrate than players who went for other builds for 우르곳.
Additionally, like our rune builds, you can also get quality, dedicated, 우르곳 item builds below for the particular enemy team comp you are playing in your current match.

집중 공격

승전보

전설: 핏빛 길

최후의 저항

뼈 방패

과잉성장
If you are fighting a well-mixed enemy team comp, you should strongly consider getting him the 정밀, and 결의 runes. In recent games, he won the greatest number of his matches when using these runes.
However, if you are playing a more focused enemy team composition, such as an AP focused or a crowd control heavy team, you should instead look further down to get the best 우르곳 runes to defeat your particular enemy team.
우르곳로

빡겜하는 상대 팀을 이길 수 있는 룬

집중 공격

승전보

전설: 강인함

최후의 일격

보호막 강타

뼈 방패