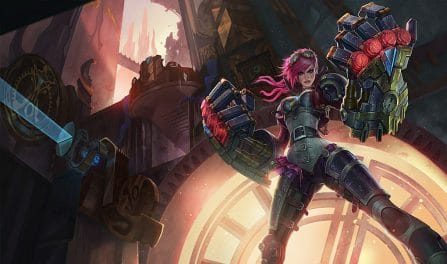 To generate these 바이 statistics, we analyzed 133,231 recent ranked League matches with her chosen. MOBA Champion pulls ranked match records directly from Riot's servers. This gives us great confidence in our 바이 stats. Across all rounds, she did do very well, with an above average win rate of 51.4%.
In the current meta, 바이 is somewhat popular. She has been used in 4.3% of recently ranked games. She is rarely banned during champ select. Obviously, very few players see her as a substantial threat. In the latest ranked rounds, 바이 was banned 0.8% of the time.
Because of 바이's K/D/A and utility, she has a pretty good overall win rate. She does very well in the late game, with a winrate of NaN% in that phase. Unfortunately, she does terribly in the late game, where 바이's winrate is NaN%., The difference between her best and worst game phases is a large NaN%. This sizeable difference indicates that her power spikes and fades in different phases of the match. Plan well.
You will find her most often used in the jungle position. The best win rate position for 바이 is jungle ([object Object]%). At this time, 바이's meta game is focused on dealing damage. In particular, her build should mainly be centered around physical damage. Furthermore, she is a pretty good tank champ. Dealing magical damage is the least critical part of 바이's build.
You should expect to have to to spend only a little bit of time practicing and learning to get good with 바이. Many LoL gamers think she is one of the most basic champion to master. 바이 mostly causes physical damage (93% of her total damage). She doesn't deal a lot of other damage types and should not be considered a hybrid damage dealer..
바이 deals a decent amount of damage in a typical match (15,474 damage). You may want to focus on building her as a powerful champ to destroy your opponents.
자운의 암흑가에서 범죄를 일삼던 다혈질 성격의 바이는 충동적이고 성급한 데다 권위에 대한 존중이라고는 눈곱만큼도 없다. 어릴 적부터 혼자 자라다시피 한 그녀는 생존 본능이 치열하고 유머감각은 사악할 만큼 냉소적이다. 하지만 이제 바이는 평화 유지를 위해 필트오버의 경찰 소속이 되어 육중한 벽을 단숨에 부술 만큼 무시무시한 마법공학 건틀릿을 휘두르며 범죄자를 색출하고 있다.
She is a powerful damage dealer on the Rift with 6.6 kills on average each game. That is one of the highest kill counts among all jungles. Furthermore, she has a relatively high average champion death count (6.1 deaths). Additionally, 바이 has an average KDA ratio (2.4) with 7.8 assists.
매주 라이엇 서버에서 직접 가져온 100만 개가 넘는 리그 오브 레전드 매치들을 열람하고 심화된 알고리즘으로 데이터를 분석하여 가장 정확한 바이 통계를 제공해 드립니다. 티어 별로 데이터를 분석하기 때문에 본인에 가장 관련된 바이 승률 및 기타 통계를 찾으실 수 있습니다.