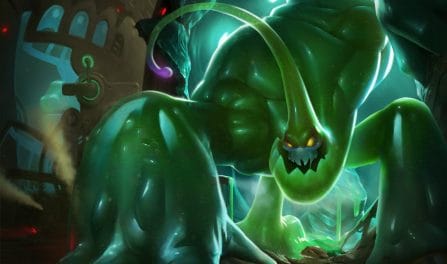 To prepare these 자크 stats, we analyzed 123,492 recent ranked League of Legends matches with him chosen. MOBA Champion pulls ranked match records directly from Riot's servers. This allows us to be very confident in our 자크 statistics. He did do a good job in recent games. He racked up a decent win rate of 51.3%.
In the current meta, 자크 is somewhat popular. He has been played in 4.4% of recently ranked games. Hardly anyone sees him as a threat. He has only been banned in roughly 1.7% of League of Legends matches.
Thanks to 자크's K/D/A and utility, he has a pretty good overall win rate. He does very well in the late game, with a winrate of NaN% in that phase. Unfortunately, he does worst in the late game, where 자크's win rate is NaN%., The difference between his best and worst game phases is a large NaN%. This sizeable difference makes it clear that his power spikes and fades in different parts of the match. Prepare well.
자크 is played mostly in the jungle position. This happens in [object Object]% of his rounds. Jungle 자크 also has the highest win rate ([object Object]%) of all positions. Currently, 자크's meta game is focused on dealing damage. In particular, his gameplay should mainly be centered around magical damage. Moreover, he is an ok tank champ. Dealing physical damage is the least significant part of 자크's kit.
If you are not used to his skills and tactics, you probably will find it difficult trying him out for the first time. Many competitors consider him to be a difficult champion to master. 자크 mostly does magic damage (85% of his total damage). He doesn't deal much of other damage types and should not be played as hybrid damage dealer..
자크 deals a good amount of damage during a regular ranked match (14,165 damage). You could focus on building him as a powerful champ to defeat your foes.
자크는 화학공학 지층을 따라 흐른 독성물질이 자운의 지하동굴 깊은 곳에 위치한 웅덩이에 모여 만들어진 생명체이다. 이처럼 변변치 못한 태생에도 불구하고 자크는 원시적인 진흙의 상태에서 지성을 갖춘 존재로 성장했다. 그는 자운의 배관 속에 살면서 도움이 필요한 이들을 돕거나 자운의 망가진 기반시설을 재건하기 위해 이따금 모습을 드러낸다.
He is an average damage dealer in the game with 4.7 kills on average per match. That is one of the lowest kill counts among all jungles. Additionally, he has a relatively typical average champion death rate (4.7 deaths). Additionally, 자크's KDA is typically very high with an average KDA ratio of 3.4 as well as 11.5 assists per game.
매주 라이엇 서버에서 직접 가져온 100만 개가 넘는 리그 오브 레전드 매치들을 열람하고 심화된 알고리즘으로 데이터를 분석하여 가장 정확한 자크 통계를 제공해 드립니다. 티어 별로 데이터를 분석하기 때문에 본인에 가장 관련된 자크 승률 및 기타 통계를 찾으실 수 있습니다.