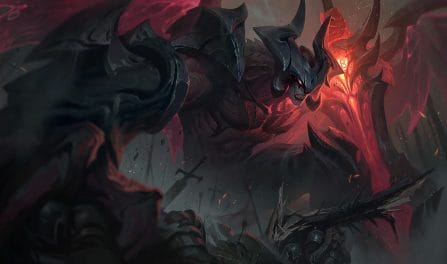 As melhores runas, itens e dicas para dominar seus inimigos
131,561 builds de Aatrox analisadas
Our Aatrox builds come from our analysis of 131.561 recently ranked Aatrox games. Only the highest winrate Aatrox builds that are also commonly used are recommended by us. Since we have so many rounds in our data, we are sure that we can generate high quality builds for t to help you win your next round!
Additionally, to view Aatrox builds specific to a particular skill level, choose a different division from the dropdown menu above. If you change the selection, the proposed Aatrox build given will reflect that division's meta gameplay.
Melhores itens para build de

Aatrox
The most essential items to include in your champion's build are: Hemodrenário,Sinal de Sterak, and Hidra Raivosa. Those who added these pieces in their setups had a much higher win rate than players who used other Aatrox builds.
Yet, as with our rune recommendations, you can also find quality, focused, Aatrox item builds below for the particular enemy team setup you are facing in your next match.
Aatrox

Items para derrotar composições de time específicas
Melhores runas para

Aatrox

Conquistador

Triunfo

Lenda: Espontaneidade

Até a Morte

Gosto de Sangue

Caça Voraz
If you are trying to beat a mixed enemy team comp, you should really consider grabbing Aatrox the Precisão, and Dominação runes. In recent matches, he won the greatest number of his matches when equipped with these runes.
However, if you are battling a more homogenous enemy team composition, such as an AD heavy or a crowd control heavy team, you should instead browse a little down to see the best Aatrox runes to defeat your particular enemy team.
Aatrox

Runas para derrotar formações de time específicas

Conquistador

Triunfo

Lenda: Espontaneidade

Até a Morte

Osso Revestido

Inabalável
Guia para jogar com

Aatrox
Tente conseguir alguns stacks no Poço de Sangue antes de dar engage para garantir que pode reviver se for abatido.
Use Massacre para ativar sua passiva para uma reação rápida para reviver.
Consiga fáceis abates no early game usando o alto dano de Massacre para ultimates no nível 6 e 11.
Use Lâminas da Aflição para garantir o knock-up de Voo Sombrio