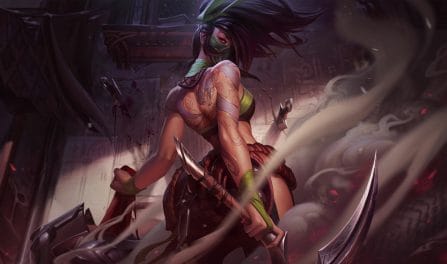 As melhores runas, itens e dicas para dominar seus inimigos
201,043 builds de Akali analisadas
We came up with our Akali build recommendations by analyzing 201.043 recently ranked League of Legends rounds with her in them. We only propose the best winrate Akali builds that were built by ranked League players enough times for us to suggest them. With so many matches in our dataset, we are quite confident in our provided builds.
Additionally, Akali builds specific to a unique skill division can be displayed by selecting a different tier from the dropdown menu found above. The recommended Akali build shown will be focused on that division's meta.
Melhores itens para build de

Akali
The most critical items to incorporate into your champion's build are: Criafendas,Capuz da Morte de Rabadon, and Ampulheta de Zhonya. Those who included these pieces in their builds had a much higher winrate than those who worked towards other builds for Akali.
Yet, like our rune builds, you can also get quality, focused, Akali item builds just below for the specific enemy team composition you are facing in your next match.
Akali

Items para derrotar composições de time específicas
Melhores runas para

Akali

Conquistador

Presença de Espírito

Lenda: Tenacidade

Golpe de Misericórdia

Impacto Repentino

Caça Voraz
If you are playing a mixed enemy team arrangement, you should really consider grabbing Akali the Precisão, and Dominação runes. In recent matches, she won the greatest number of her rounds when using these runes.
Although, if you are trying to beat a more focused enemy team composition, such as an AD centric or a tank centric team, you should instead scroll below to find the best Akali runes to defeat your particular set of opponents.
Akali

Runas para derrotar formações de time específicas

Eletrocutar

Impacto Repentino

Globos Oculares

Caça Voraz

Foco Absoluto

Chamuscar
Guia para jogar com

Akali
Deixe seu time iniciar e abata os suportes mais fracos de trás.
O melhor combo para ativar o Q em uma rápida sucessão.