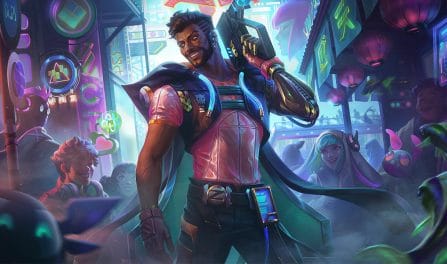 As melhores runas, itens e dicas para dominar seus inimigos
161,581 builds de Akshan analisadas
We calculated our Akshan build guidance by examining 161.581 recently ranked LoL rounds with them in them. We only recommend the top winrate Akshan builds that have been used by ranked gamers enough times for us to suggest them. With so many rounds in our dataset, we are quite confident in our provided builds.
Additionally, to see Akshan builds customized to a unique skill level, pick a different rank from the dropdown menu located above. In that case, the best Akshan build given will be based on that division's meta gameplay.
Melhores itens para build de

Akshan
The most important items to use in your champion's build are: Arco-escudo Imortal,Limite da Razão, and A Coletora. Players who included these pieces in their setups had a better winrate than players who used other Akshan builds.
Yet, similar to our rune builds, you can also get quality, focused, Akshan item builds below for the particular enemy team composition you are facing in your current match.
Akshan

Items para derrotar composições de time específicas
Melhores runas para

Akshan

Pressione o Ataque

Presença de Espírito

Lenda: Linhagem

Dilacerar

Golpe de Escudo

Osso Revestido
If you are playing a varied enemy team arrangement, you should really consider grabbing Akshan the Precisão, and Determinação runes. In recent matches, they won the largest percentage of their rounds when equipped with these runes.
Yet, if you are fighting a more focused enemy team composition, such as an AP centric or a CC focused team, you should instead scroll a little below to find the best Akshan runes to defeat your particular enemy team.
Akshan

Runas para derrotar formações de time específicas

Pressione o Ataque

Presença de Espírito

Lenda: Linhagem

Dilacerar

Golpe de Escudo

Osso Revestido