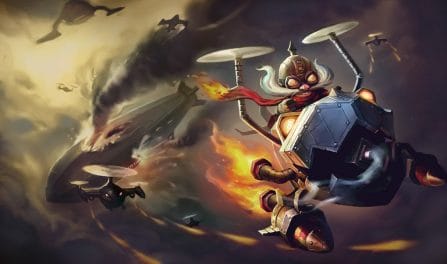 As melhores runas, itens e dicas para dominar seus inimigos
43,714 builds de Corki analisadas
Our Corki builds result from our analysis of 43.714 recently ranked Corki matches. Only the top winrate Corki builds that are also commonly used are suggested by us. Since we have so many games in our data, we are quite sure that we can show you high quality builds for i to help you win your next game!
Additionally, to view Corki builds tailored to a unique division, pick your desired division from the dropdown menu found above. If you change the selection, the recommended Corki build given will be based on that tier's meta gameplay.
Melhores itens para build de

Corki
The most important items to include in your champion's build include: Arco-escudo Imortal,Canhão Fumegante, and Colhedor de Essência. Players who added these pieces in their kits had a better win rate than players who utilized other builds for Corki.
Moreover, as with our rune recommendations, you can also get quality, dedicated, Corki item builds below for the particular enemy team setup you are facing in your current game.
Corki

Items para derrotar composições de time específicas
Melhores runas para

Corki

Agilidade nos Pés

Presença de Espírito

Lenda: Linhagem

Dilacerar

Calçados Mágicos

Entrega de Biscoitos
If you are trying to beat a varied enemy team arrangement, you should really consider grabbing Corki the Precisão, and Inspiração runes. In recent matches, he won the greatest number of his matches when built with these runes.
However, if you are fighting a singular enemy team composition, such as an AP centric or a crowd control heavy team, you should instead browse below to get the best Corki runes to defeat your particular combination of foes.
Corki

Runas para derrotar formações de time específicas

Agilidade nos Pés

Triunfo

Lenda: Espontaneidade

Golpe de Misericórdia

Calçados Mágicos

Entrega de Biscoitos
Guia para jogar com

Corki
Use Valquíria para conseguir se posicionar melhor ou escapar de ganks inimigos.
Adquira itens de mana para garantir que pode spamar as habilidades de Corki para dar harass.