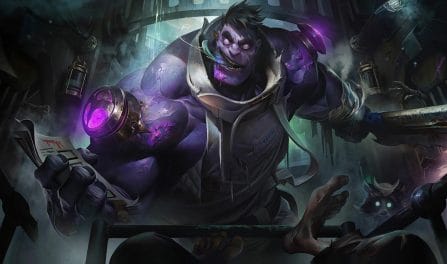 As melhores runas, itens e dicas para dominar seus inimigos
179,140 builds de Dr. Mundo analisadas
Our Dr. Mundo builds come from our examination of 179.140 recently ranked Dr. Mundo rounds. Only the highest win rate Dr. Mundo builds that are also in common use are recommended by us. Because we have so many matches in our database, we are quite sure that we can give you the highest quality builds for D to help you win your next game!
Additionally, Dr. Mundo builds dedicated to a unique skill rank can be displayed by selecting a different tier from the dropdown menu found above. The recommended Dr. Mundo build shown will be specific to that division's meta.
Melhores itens para build de

Dr. Mundo
The most critical items to use in your champ's build are: Égide de Fogo Solar,Armadura de Espinhos, and Couraça do Defunto. Those who included these pieces in their gear had a much better win rate than those who worked towards other Dr. Mundo builds.
Additionally, similar to our rune recommendations, you can also get quality, focused, Dr. Mundo item builds a little further down for the specific enemy team comp you are battling in your next match.
Dr. Mundo

Items para derrotar composições de time específicas
Melhores runas para

Dr. Mundo

Aperto dos Mortos-Vivos

Demolir

Condicionamento

Crescimento Excessivo

Velocidade de Aproximação

Calçados Mágicos
If you are trying to beat a varied enemy team comp, you should really consider grabbing Dr. Mundo the Determinação, and Inspiração runes. In recent games, he won the largest number of his matches when built with these runes.
Although, if you are trying to beat a more focused enemy team comp, such as an AP focused or a crowd control centric team, you should instead look a little below to view the best Dr. Mundo runes to defeat your particular enemy team.
Dr. Mundo

Runas para derrotar formações de time específicas

Aperto dos Mortos-Vivos

Demolir

Ventos Revigorantes

Revitalizar

Velocidade de Aproximação

Calçados Mágicos
Guia para jogar com

Dr. Mundo
Serra Infectada é uma boa forma de perturbar campeões inimigos e dar o último hit em minions.
Use Sadismo para atrair seu inimigo para um dive mas preste atenção para não usá-lo contra campeões de dano de burst.