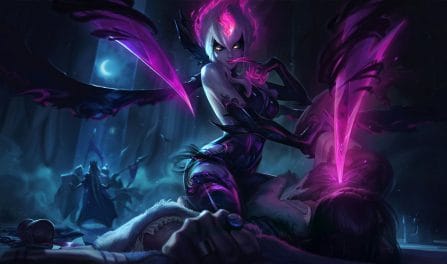 As melhores runas, itens e dicas para dominar seus inimigos
157,619 builds de Evelynn analisadas
We calculated our Evelynn build guidance by examining 157.619 recently ranked League of Legends games with her in them. We only advise the highest winrate Evelynn builds that were used by ranked players enough times for us to suggest them. With so many games in our data, we are quite confident in our provided builds.
Additionally, Evelynn builds dedicated to a particular skill tier can be displayed by picking another tier from the dropdown menu found above. The recommended Evelynn build shown will be focused on that tier's meta.
Melhores itens para build de

Evelynn
The most important items to include in your champ's build are: Explocinturão Hextec,Capuz da Morte de Rabadon, and Véu da Banshee. Players who included these items in their gear had a significantly better win rate than those who tried for other item builds for Evelynn.
Furthermore, similar to our rune recommendations, you can also find quality, dedicated, Evelynn item builds a little further down for the particular enemy team setup you are facing in your next match.
Evelynn

Items para derrotar composições de time específicas
Melhores runas para

Evelynn

Eletrocutar

Impacto Repentino

Globos Oculares

Caça Incansável

Foco Absoluto

Caminhar Sobre as Águas
If you are playing a mixed enemy team arrangement, you should really consider grabbing Evelynn the Dominação, and Feitiçaria runes. In recent games, she won the largest fraction of her matches when built with these runes.
Yet, if you are battling a more single focused enemy team composition, such as an AD heavy or a tank heavy team, you should instead browse a little down to get the best Evelynn runes to defeat your particular combination of foes.
Evelynn

Runas para derrotar formações de time específicas

Eletrocutar

Impacto Repentino

Globos Oculares

Caça Suprema

Calçados Mágicos

Mercado do Futuro
Guia para jogar com

Evelynn
A invisibilidade de Evelynn a torna um jungler muito útil, mas ela é frágil e leva tempo para dominar suas habilidade eficientemente.
Use Abraço da Agonia para iniciar teamfights uma vez que ele possui dano e lentidão em área.