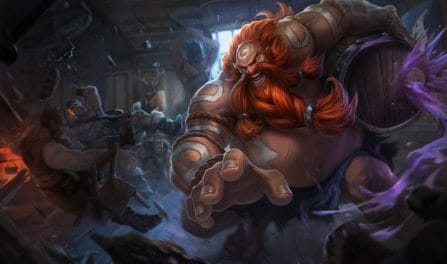 Os melhores Campões do LoL para sinergia e counterar Gragas
26,779 counters e matchups com Gragas analisados
We determined our best and worst Gragas counters using information pulled from 26,779 ranked League of Legends rounds. We have established the champs with the best and worse rates of victory when facing him. Furthermore, we found which champions can serve as good teammates to to get more wins.
As you can see above, Malzahar is the best counter to Gragas with a 58.0% win rate against him. Close behind, Zyra and Kled are the next scariest threats to Gragas. These two have win rates of 58.0% and 57.0%, respectively. You should avoid taking him into a game where any of these champions has already been chosen.
Conversely, if you're fighting Syndra, you should expect to do much better. Gragas counters them with a much higher win rate of 56.0%. Similarly, you should anticipate doing very well when facing Nidalee and Kennen. These champs have the next worst win rates when countering Gragas.
If you would like good champ synergies for your own teammates to enhance your win percentage even further, look at our Gragas synergies above. Regardless of his chosen position, he does very well when paired with Nocturne. This combination usually increases his average win rate by 2.0%. Xin Zhao and Aurelion Sol are also fantastic champions to fight alongside.
To get the details and best Gragas counter builds for a particular matchup, you can click the corresponding row in the tables above. If you are interested in any Gragas counters that aren't shown here, you can click the "All Matchups" button to view details on all potential counters.
In order to see Gragas pairings and counters from one division rank, you may use the dropdown menu above to narrow the counters provided.
Nós processamos milhões de partidas de League of Legends, extraídas diretamente dos servidores da Riot semanalmente. Analisamos os dados usando algoritmos avançados para oferecer os counters de Gragas mais precisos on-line.
Guia para counterar

Gragas
Não se agrupe quando Gragas está se preparando para uma iniciação.
Gragas é forte contra vários times que dependem de um único campeão na back-line. Sua Ult pode explodir a linha de frente e expor o carry inimigo.