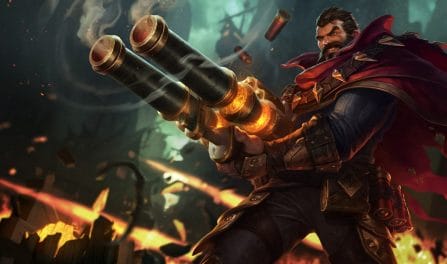 As melhores runas, itens e dicas para dominar seus inimigos
220,189 builds de Graves analisadas
We set our Graves build recommendations by analyzing 220.189 recently ranked League matches with him in them. We only advise the best winrate Graves builds that have been used by ranked LoL players enough times for us to advise them. With so many rounds in our dataset, we are quite confident in our provided builds.
Additionally, to get Graves builds customized to a particular division, choose your desired tier from the dropdown menu found above. In that case, the proposed Graves build given will reflect that division's meta gameplay.
Melhores itens para build de

Graves
The most important items to include in your champion's build include: Arco-escudo Imortal,Gume do Infinito, and Sedenta por Sangue. Those who added these pieces in their gear had a higher win rate than those who went for other Graves builds.
Furthermore, as with our rune setups, you can also find quality, focused, Graves item builds just below for the particular enemy team comp you are battling in your next match.
Graves

Items para derrotar composições de time específicas
Melhores runas para

Graves

Agilidade nos Pés

Triunfo

Lenda: Espontaneidade

Até a Morte

Calçados Mágicos

Mercado do Futuro
If you are fighting a mixed enemy team composition, you should really consider grabbing Graves the Precisão, and Inspiração runes. In recent games, he won the greatest fraction of his rounds when using these runes.
Although, if you are playing a more homogenous enemy team composition, such as an AP centric or a tank heavy team, you should instead scroll further down to view the best Graves runes to win your particular round.
Graves

Runas para derrotar formações de time específicas

Colheita Sombria

Impacto Repentino

Globos Oculares

Caça Incansável

Lenda: Espontaneidade

Triunfo
Guia para jogar com

Graves
Use Saque Rápido para se aproximar e dê follow up com Chumbo Grosso para mitigar bastante dano.
Cortina de Fumaça pode ser usada em iniciações ou como mecanismo de escape, porque aplica visão reduzida em todos os inimigos dentro da nuvem de fumaça.